2023 Opening Day at Port Royal Speedway
Port Royal Mayor Dylan Cisney Wins Sprint Car Thriller On Opening Day
Port Royal Mayor Dylan Cisney Wins Sprint Car Thriller On Opening Day
Dylan Cisney, the Mayor of Port Royal, Pennsylvania, won a thrilling 410 Sprint Car season opener at Port Royal Speedway on Sunday afternoon.
Mar 6, 2023
by FloRacing Staff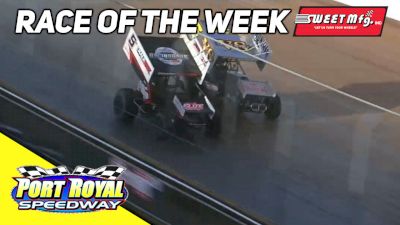 PORT ROYAL, PA -- Dylan Cisney capitalized on lapped traffic and used a late-race move to get by Parker Price-Miller to score his second career Port Royal Speedway Opening Day presented by Packer's Concessions, LLC. triumph in front of an amped up Juniata County fanbase Sunday evening.
The win, worth $5000, came over Price-Miller, Anthony Macri, Danny Dietrich, and Jeff Halligan. It was "The Mayor's" seventh career victory at his local facility and moved the hometown kid into a five-way tie for 49th on the career win list of the Speedway with Brock Zearfoss, Jeff Shepard, Jim Nace and Mike Erdley.
"Did you guys like that one?" said a thrilled Cisney in victory lane. "These things are tough and it's just neat to now be a two-time Opening Day winner and we got it done today."
Scheduled fourth-place starter, Lance Dewease, lost any opportunity at scoring his third consecutive Opening Day title before the green flag dropped as he was forced to his trailer with mechanical issues as the field got lined up.
Cisney and Halligan lined up on the front row for the 25-lap feature event and it was Halligan jumping out to the early lead. Cisney, Price-Miller, Macri and Jason Shultz settled into the top five positions. Dietrich, Austin Bishop, Devon Borden, Dylan Norris and Gerard McIntyre Jr made up the rest of the top ten.
While the front four settled into their respective spots, Dietrich cracked the top five on following lap. The top five remained the same over the front five circuits, before Borden came to a slow on the frontstretch with 20 laps remaining to bring out the event's first caution. He'd tag the end of the field after making repairs.
Price-Miller made his presence known following a return to green-flag action as he got by Cisney for the runner-up spot on lap seven. Norris moved into sixth one lap later, while 11th-place starter Mike Wagner moved into seventh with 15 laps remaining.
The caution would fly again one lap later, when 14th-place running Logan Wagner spun out in between turn's three and four. Wagner, who is the defending track champion at the Speedway, had advanced 10 positions prior to the spin after scoring the final starting spot for the event in the B-main earlier in the night.
Mike Wagner continued his march forward after the field returned to green-flag action as he moved into sixth with 11 laps remaining. While Borden moved back into the top ten two laps later.
Halligan remained steadily up front, but as he approached lapped traffic with seven laps remaining, he had Price-Miller and Cisney in hot pursuit.
Price-Miller made his move with three laps remaining as he took the lead down the backstretch exiting turn two. Cisney followed suit to get by Halligan exiting turn four and both he and Price-Miller were nose to tail coming to the two-to-go signal.
Cisney used a slider through turn's one and two to overtake Price Miller for the top spot, but Price-Miller repaid the favor in turn's three and four to lead the white-flag lap by mere inches. Cisney tried the same move again in turn's one and two and this time he had the momentum exiting tun two. Price- Miller made one last ditch effort to grab the top spot on the top of the track in the last two turns, but Cisney would not be denied as he took the checkered flag.
Mike Wagner, Justin Whittall, Freddie Rahmer, Shultz, and Borden rounded out the top ten. Whittall earned an additional $500 courtesy of Valley Supply as the night's hard charger award winner after starting 14th on the grid, while 19th-place finisher Paulie Colagiovanni earned the $1000 J&S Classics Warrior Award via random draw. 12th-place finisher Austin Bishop also earned an additional $100 bonus via Zach Knepp via random draw as well.
"We didn't take off like we'd like to, but I'm perfectly fine letting someone else set sail and being the chaser," said Cisney. "I didn't really want to let Parker get by me out there, but those guys got racing each other there and we were like a rabbit chasing the dog. We got hungry and here we are."
Cisney also made sure to compliment the track promotional team and the Juniata County Agricultural Society, who announced earlier in the night an increase of the weekly purse at the track in 2023 for not only the winners, but the rest of the field as well.
"It's such a testament to everyone involved with this place that they can do this, and it means a lot with how much everything has increased in regard to costs," said Cisney. "It's hard to afford milk and eggs anymore, so we need this money as racers. It takes a lot to do this, and I can't thank the people and sponsors enough for giving us as drivers and teams these opportunities."
For Price-Miller, who intends to follow the Tezos All Star Circuit of Champions tour in 2023, he felt like he let one get away.
"I knew we were good, and we got that last restart and once I started catching Jeff (Halligan) I knew I had to do something quick," said Price-Miller. "I got by him and went back to the top and Dylan threw a bomb at me, and I didn't expect him to be there. I just love coming to Port Royal and being here on Opening Day and despite a second, I'm happy to put on a show for these fans."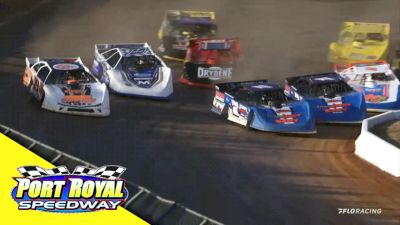 VIDEO: Watch highlights from the Opening Day Super Late Model feature at Port Royal.
A New Super Late Model Winner
Dillan Stake entered the 2023 racing season as the defending Limited Late Model track champion at the Port Royal Speedway. He backed up the impressive 2022 season in the Limited Late Model division with his first career Selinsgrove Ford Super Late Model victory Sunday during Opening Day presented by Packer's Concessions.
The win, worth $4000, came over Ross Robinson, Rick Eckert, Hayes Mattern and Jeff Rine.
Stake started on the outside of row one next to Amanda Robinson, and he was able to take the top spot on the opening lap of the 25-lap feature event. Mattern, Ross Robinson, Amanda Robinson and Eckert rounded out the top five.
Eight starter Austin Berry was on the move early as he moved into fourth at the completion of lap three, while the Eckert climbed back into fifth after briefly dropping out of the top five on lap four.
Stake lead Mattern and Robinson at the 15 laps to go mark, but he was quickly approaching lapped traffic and had his hands full. Both Mattern and Robinson were closing fast, but the two cars battled it out over the next five laps and gave Stake some breathing room as he maneuvered the lappers coming to ten to go.
Mattern finally gave way to Robinson for the runner-up spot with three laps to go, but by then Stake had opened up his advantage to a sizeable amount. Eckert overtook Mattern for the final podium spot on the final circuit, but nobody had anything for Stake as he cruised to the victory and the checkered flag.
Amanda Robinson, Colton Flinner, Gary Stuhler, Gregg Satterlee and Berry rounded out the top ten. Satterlee earned the hard charger award and scored an additional $200 courtesy of Mike Cleck Paving & Sealcoating, Inc.. Chad Myers earned an additional $100 courtesy of Georges Used Cars via random draw after finishing 19th as well.
"This deal is a lot of hard work and it finally paid off with a win with the Super," said Stake. "As soon as we ran the first lap, I knew we had a really good car and I just needed to keep my tires under me. This is my favorite car and it's the same car we won all the Limited races with, and we just finally made the switch."
For Robinson, he was happy with a runner-up finish after his initial weekend plans elsewhere were ruined with rain.
"We had a rough Speedweeks in Florida, so this second is kind of a relief," said Robinson. "This is a brand-new car and we didn't have to do too much to feel comfortable, so we can take this and learn from it."
410 Sprint Car Feature Results
1. Dylan Cisney, 2. Parker Price-Miller, 3. Anthony Macri, 4. Danny Dietrich, 5. Jeff Halligan, 6. Mike Wagner, 7. Justin Whittall, 8. Freddie Rahmer, 9. Jason Shultz, 10.Devon Borden, 11. Dylan Norris, 12. Austin Bishop, 13. Kyle Reinhardt, 14. Chris Windom, 15. Gerard McIntyre Jr., 16. TJ Stutts, 17. Troy Wagaman Jr, 18. Ryan Taylor, 19. Paulie Colagiovanni, 20. Cameron Smith, 21. AJ Flick, 22. Logan Wagner, 23. Steve Buckwalter, 24. Lance Dewease
Super Late Model Results
1. Dillan Stake, 2. Ross Robinson, 3. Rick Eckert, 4. Hayes Mattern, 5. Jeff Rine, 6. Amanda Robinson, 7. Colton Flinner, 8. Gary Stuhler, 9. Gregg Satterlee, 10. Austin Berry, 11. Trever Feathers, 12. Kyle Hardy, 13. Mike Lupfer, 14. Logan Zarin, 15Justin Weaver, 16. Devin Hart, 17. Roy Deese Jr, 18. Shaun Jones, 19. Chad Myers, 20. Andrew Yoder, 21. Khi Swanger, 22. Scott Flickinger, 23. Trevor Collins, 24. Nick Dickson