2023 World Series Of Asphalt Stock Car Racing at New Smyrna Speedway
Matt Hirschman Remains Undefeated In New Smyrna Tour-Type Modifieds
Matt Hirschman Remains Undefeated In New Smyrna Tour-Type Modifieds
With a win in Wednesday's John Blewett III Memorial, Matt Hirschman remained undefeated in Tour-type Modified competition at New Smyrna Speedway this year.
Feb 16, 2023
by NASCAR Roots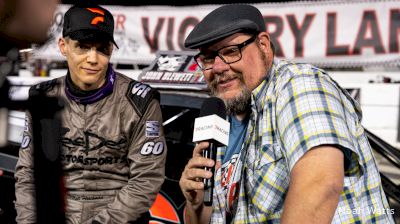 The same old song and dance played out in the World Series of Asphalt Stock Car Racing's John Blewett Memorial on Wednesday evening.
After getting shuffled in the running order following the post-qualifying invert, three-time World Series of Asphalt Modified champion Matt Hirschman once again methodically worked his way toward the front before making the race-winning pass on pole-sitter Jimmy Blewett shortly before the halfway point.
Hirschman's third win in the 2023 World Series of Asphalt carried extra significance knowing he won the event named in Blewett's honor.
"This hits home, because I was on the track when John passed away at Thompson," Hirschman said. "I can appreciate John as a racer, because he could do it all. I set up my own cars and call my own races. He did the same thing. John was a great racer and it's nice we get to honor guys like him."
The only challenge Hirschman faced during the evening came in the form of Patrick Emerling, who muscled Hirschman out of the groove on a Lap 55 restart to take the lead. A caution negated the restart and put Hirschman back in front, where he easily fended off Emerling and pulled away with the win.
With his victory, Hirschman remains undefeated in Modified competition at New Smyrna during the World Series of Asphalt, save for Saturday's NASCAR Whelen Modified Tour season-opener, which does not count toward the point standings. He is seeking to become the first driver in World Series of Asphalt to sweep all five Modified events.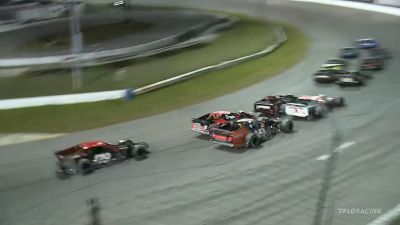 VIDEO: Watch highlights from Wednesday's John Blewett III Memorial at New Smyrna Speedway.
A fourth Modified title is not currently on Hirschman's mind, as he wants to make sure he can make his way back to Victory Lane on Thursday with another stellar car.
"We're taking things one night at a time," Hirschman said. "If we can do this again tomorrow night, then I think [we can sweep]. We've got two more ahead of us, so we're not getting too far ahead of ourselves. We have to maintain focus."
RESULTS: World Series Of Asphalt Stock Car Racing At New Smyrna Speedway
The John Blewett Memorial was one of four races to take place Wednesday. Below are the key takeaways from the sixth night of racing in the World Series of Asphalt.
After setting the fastest lap in qualifying, Casey Roderick charged up from third following an invert and ended up taking the win in the Super Late Model feature. William Sawalich rebounded from a blown engine in Tuesday's Clyde Hart Memorial to finish second, where he was followed by Jake Finch, Giovanni Ruggiero and Connor Mosack.
2017 eNASCAR Coca-Cola iRacing Series champion Ryan Luza survived a chaotic Pro Late Model feature to claim his first victory in the World Series of Asphalt, which he accomplished after passing Carson Brown on a Lap 18 restart. Brown held off Conner Jones to finish second, with Brent Crews and seven-time ARCA Menards Series East winner Eddie MacDonald rounding out the top five.
Jason Lester took home the checkered flag in the Florida Modified feature, his first in the 2023 edition of the World Series of Asphalt. The rest of the top five consisted of Bill Burba, Jerry Symons, Wayne Parker and Stain Held.
On Thursday, the seventh night of the World Series of Asphalt consists of five divisions that include a 50-lap Tour Modified race, along with Pro Late Models, 602 Modifieds, Florida Modifieds and Super Late Models.
FloRacing has the coverage starting at 7:30 p.m. ET.