2023 Icebreaker at Florence Motor Speedway
Perfect Game Plan Leads Doug Barnes To Icebreaker Win At Florence
Perfect Game Plan Leads Doug Barnes To Icebreaker Win At Florence
Doug Barnes Jr. stuck to his game plan and scored the win in Saturday's Icebreaker at Florence Motor Speedway.
Feb 11, 2023
by FloRacing Staff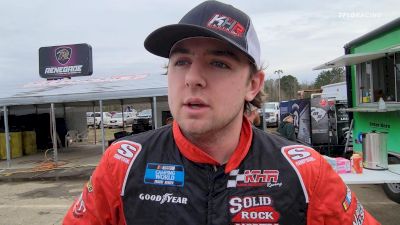 Doug Barnes and company had a game plan and they stuck to it.
Having led every lap of the Icebreaker at Florence from the pole, not even getting passed by Matt Cox on Lap 88 made the No. 88 stray from their pre-race strategy, eventually taking the lead back 10 laps later and never looking back.
Barnes said they never wavered in their approach.
"We have a lap time that we base everything off of here," Barnes said. "We thought there would be a little more pressure around Lap 75 with the rain in the area and that's about when Matt got me and passed me.
"I just figured if I could run the pace I wanted to run without pushing things too hard, I could maintain the lead or at least try to, and the pace was just super slow from where I thought it would be.
"Matt got me using a lap car as a pick, and I thought that would create a challenge to see how much rubber we used, but I realized once we got behind him that we hadn't used much at all and we had a really good car."
It took just the 10 laps and Barnes was back out front, where he would stay despite two restarts and pressure from behind in the form of Connor Hall and Kaden Honeycutt who picked off Cox during the first restart.
Hall was scored second at the line, but was light across the scales and was disqualified, moving Honeycutt and Mason Diaz to the podium. Hall, driving his family owned car, but out of the Chad Bryant Racing stable just finished this brand-new car overnight, perhaps leading to a lack of thoroughness before the race.
Honeycutt ultimately was scored with a runner-up finish before one of the biggest races of his life on Friday in the Truck Series race at Daytona, which could determine if he adds additional races to chase a playoff berth.
For now, this was his first race with Mike Darne Racing and Jason Stanley, and they made it a good one.
"I just needed to be looser in the center," Honeycutt said. "Was chopping off the right front a little bit too much. But honestly, I found the top late, but they were so far gone, and I was just trying to defend Mason off.
"We did that, but with only 15 laps of practice, I'm so pleased with this finish."
Who was not pleased by the finish was JR Motorsports with both Dale Earnhardt Jr. and Carson Kvapil struggling mightily from where they were at Florence in November for the South Carolina 400.
Kvapil started 8th and Earnhardt 15th, and spent the near majority of the race outside of the top-10. Kvapil lost a lap before the end of the race and Earnhardt was running 13th when the field stacked up in front of him leading to front bumper damage.
Simply put, the 3 and 8 were not competitive on Saturday.
"We practice really good, were fast in practice and I don't know, I thought I was saving enough riding 11th and when it came time to go, we didn't have anything more to go with," Earnhardt said.
"We were spinning the tires there off 4, rear drive went away completely, and was just doing everything I could make whatever lap time I could. Carson didn't run good so both our cars didn't run good. I don't know what was wrong with the 8 -- he said he wasn't running well."
Earnhardt and crew chief Josh Berry said they didn't change much from the South Carolina 400 where both drivers were very competitive, and the track had just changed a lot. It's losing more and more grip with every race.
"I had a blast driving these cars, and doing this more and more, I knew there would be a chance I would get my butt kicked several times and that's part of it. If you want to come out here, you have to be willing to get humbled and we were humbled today."
Does his first real adversity in a Late Model Stock make him hungrier to come back for his next start?
"No, not really because I'm hungry anyway," Earnhardt said. "I want to come back and do this again. I love racing these cars, being in this environment and learning the people and drivers better. I love racing against some of the guys I raced in the 90s too.
"It was humbling today and it's not always going to be your day. It shows you how good this series is, these cars and the competition."
Diaz and South Carolina 400 winner Brenden Queen came from the back of the field following miscues in time trials to finish inside the top-five. Both felt they had race winning cars had they not put themselves behind in time trials.
As for Barnes, this is amongst the biggest wins of his career, and possibly one that sets the stage for a NASCAR Weekly Series National Championship run this simmer.
"It's a huge win," Barnes said. "In fact, yeah, it's the biggest win of my career so far. I've always said that I put us with any team out there. This is the first race of the season and we were right there with them. This is how I assume we should be every we go.
"I'm not shocked, but I am super pumped that we got the job done."