2023 Lucas Oil Late Model Dirt Series at East Bay Raceway Park
Hudson O'Neal's Confidence Sky High After Another East Bay Win
Hudson O'Neal's Confidence Sky High After Another East Bay Win
Hudson O'Neal claimed his second straight Lucas Oil Late Model Dirt Series win on Friday night at East Bay Raceway Park.
Feb 11, 2023
by Brandon Paul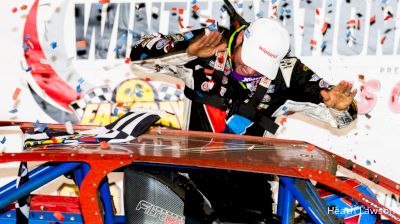 GIBSONTON, Fla. — Throughout the winless start to his Rocket Chassis house car tenure, Hudson O'Neal reminded himself that once the first win came to fruition, the remaining victories would come all the more easier.
A day after his breakthrough victory on night four of the Wieland Winternationals at East Bay Raceway Park, the 22-year-old vindicated that very belief on Thursday, surging to a second straight flag-to-flag win with the Lucas Oil Late Model Dirt Series. Friday's win awarded $12,000 and, more importantly, another dose of confidence.
RESULTS: Lucas Oil Late Model Dirt Series at East Bay Raceway Park
"It's sky-high, no doubt," O'Neal said of his team's confidence. "To be able to win like last night in a little bit slower (track) condition, then come out tonight and have a bad-fast racetrack and still be able to hang on. Clean air means a lot, though. We just have to continue to qualify good, heat race good, and stay up front.
"When you start on the front row of these features, it makes everybody's job a lot easier. I have to continue to do my job qualifying. And I'm sure they'll keep giving me an unbelievable race car.
"Hats off to the East Bay crew, man," O'Neal added. "They definitely got the racetrack way better tonight and let us race all over this thing. I saw Devin several times underneath of me there before the last caution. I had to get up on the wheel and go because I knew he was. I just can't thank my guys (enough)."
O'Neal crossed the checkers 3.044 seconds ahead of series sophomore driver Daulton Wilson, an obviously more comfier margin of victory than Thursday's 0.363-second triumph over Max Blair. There were only two points in Friday's 50-lap feature where O'Neal was challenged up front.
The first challenge O'Neal had to fend off was Moran's show of the nose on a lap-32 restart, where Moran snatched second from Ryan Gustin and set his sights on perhaps taking the lead.
"Got a really good run on (O'Neal) and about took us both out down into one," said Moran, who faded to fourth by the checkers. "He saw me, and I about took us both out on accident. That's the way it goes. I'm finally glad we ran good and finally glad it put on an awesome show. East Bay, when it's like this, it's a lot of fun to race. That's why the stands are filled, to see a race like this."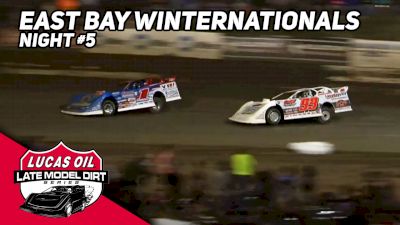 VIDEO: Watch highlights from Friday's Lucas Oil Late Model Dirt Series race at East Bay.
O'Neal's final opposition came where Wilson found speed around the middle of the racetrack in the closing laps, particularly along the cushion with five laps to go. From laps 44 to 47, the Fayetteville, N.C., driver trimmed the deficit from 2.2 seconds to 0.9 of a second. As O'Neal gradually grew larger through Wilson's dashboard, the harder he pushed, and that unfortunately led Wilson to hit the outside wall in turns three and four.
"I saw (O'Neal) getting bigger … second is great, but to be that close, I wanted to give it everything I had," Wilson said. "I hadn't been up there (the top) and overshot it. Hats off to (the Rocket Chassis house car team). They've been working their butts off and have a good race car. Thanks to my guys. This is a brand-new car. … She's pretty good."
Overall, four cautions slowed the main event, with the first a collision that shook up the top half of the leaderboard. Jockeying hard for second and trying to keep pace with O'Neal in traffic, Gustin and pole-starting Garrett Smith closed on the slower car of Tyler Bruening rather quickly entering turn one on 13.
The sequence ended in Gustin checking up to avoid spinning out Bruening, which left Smith the short end of the stick, as the 19-year-old clobbered Gustin from behind, spun around and collected fifth-place Tanner English. The race's second caution appeared for Mark Whitener on lap 16, which set up the restart that triggered a four-car melee in turn two that involved Brian Shirley, Garrett Alberson, Kyle Bronson and Jimmy Owens.
Ashton Winger, who started ninth and finished third, narrowly avoided disaster himself on the lap-18 pileup.
"Those restarts are really close. There are some guys that aren't sure about where they want to be, so they swipe at you," Winger said. "I started ninth, but hell, I ended up like 12th or 13th at one point because everybody gets so bottled up. I know it's just East Bay — and I know it's crazy for me to say this — but there's not a whole lot of respect out there. Our car is really good."
Though Ricky Thornton Jr. finished fifth from the B-main, his once-sizable lead in the Lucas Oil Series standings is now down to 50 points over O'Neal entering Saturday's $15,000-to-win finale.
"I just got myself behind in qualifying," said Thornton, who qualified ninth in the second flight of time trials. "Really, if you don't put yourself on the front row, it's hard to pass. I've come the last three years, and I'd say that was the best feature race we've had. I'm excited to move on tomorrow."