2023 Short Track Super Series at All-Tech Raceway
Danny Bouc Quickest In Short Track Super Series Practice At All-Tech
Danny Bouc Quickest In Short Track Super Series Practice At All-Tech
A total of 75 cars participated in Tuesday night's Short Track Super Series practice night at All-Tech Raceway.
Feb 8, 2023
by Brandon Paul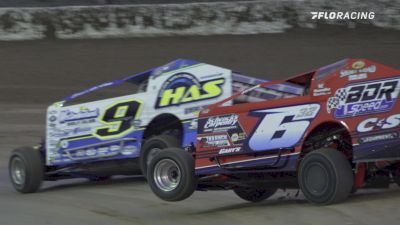 LAKE CITY, FL – The 2023 dirt Modified season is officially underway.
All-Tech Raceway hosted an Open Practice on Tuesday night, kicking off the Bob Hilbert Sportswear Short Track Super Series (STSS) Fueled By Sunoco 'Sunshine Swing' for the STSS Modifieds and STSS Crate 602 Sportsman.
On a wide, racy half-mile oval prepared by Wendell Durrance, 32 STSS Modifieds and 43 Crate 602 Sportsman took advantage of three-hour rounds of practice.
Danny Bouc of Pipersville, Pa., set the overall STSS Modified fast time with a lap of 18.907 seconds. Bouc was utilizing the Wegner Automotive 'Weekend Warrior' LS 427 cubic inch engine available for $22,500 at www.wegnerautomotive.com.
Michael Ballestero of Saratoga Springs, N.Y., was the quickest STSS Crate 602 Sportsman competitor. Ballestero recorded a lap of 20.615 seconds.
At the conclusion of practice, STSS management hosted a "Racer Appreciation Party" with complimentary beverages courtesy of Rent Equip, Party Central and American Racer tires.
The 'Sunshine Swing' officially kicks off tonight at All-Tech with a 30-lap, $4,000-to-win STSS Modified event and 25-lap, $1,500-to-win headliner for the STSS Crate 602 Sportsman.
STSS Modifieds compete for escalating purses throughout the week: $4,000-to-win for 30 laps Wednesday (Feb. 8), $5,000-to-win for 35 laps Thursday (Feb. 9), $6,000-to-win for 40 laps Friday (Feb. 10) and $8,000-to-win for 50 laps Saturday (Feb. 11).
Wednesday (Feb. 8) and Thursday (Feb. 9) events pay $1,500 to win each for 25 laps, with Friday (Feb. 10) and Saturday (Feb. 11) offering 30-lap distances for $2,500 and $2,000 to win, respectively.
A complete information center including, times, prices, rules and pay structures for the 'Sunshine Swing' is available at: https://shorttracksuperseries.com/event-info/
All-Tech Raceway is located off Interstate 75 at 1024 SW Howell Rd. Lake City, FL 32024. Learn more at www.alltechraceway.com, call 386.754.RACE (7223) or like All-Tech Raceway on Facebook.
To learn more about the Short Track Super Series Fueled By Sunoco, visit www.shorttracksuperseries.com, e-mail bdmotorsportsmedia@gmail.com, check out 'Short Track Super Series' on Facebook or @ShortTrackSS on Twitter or Instagram.