2023 Lucas Oil Late Model Dirt Series at East Bay Raceway Park
Ashton Winger Earns Dad's Pride With First Lucas Oil Victory
Ashton Winger Earns Dad's Pride With First Lucas Oil Victory
Ashton Winger claimed his first career Lucas Oil Late Model Dirt Series win on Tuesday night at East Bay Raceway Park.
Feb 8, 2023
by Kevin Kovac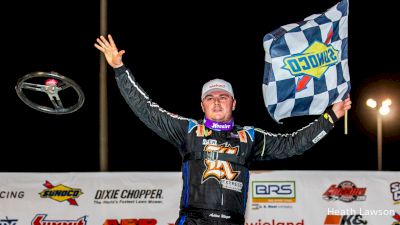 GIBSONTON, Fla. — Gary Winger was ready to transform into Angry Dad mode when he watched his son, Ashton, make a mistake that allowed Kyle Bronson to take the lead on the ninth circuit of Tuesday night's 30-lap Wieland Winternationals feature at East Bay Raceway Park.
All the elder Winger — and, well, the younger Winger as well — could think in the moment was that a potential first career Lucas Oil Late Model Dirt Series victory had slipped from Ashton's grasp.
"I usually stay pretty low key," said Gary Winger, a shock guru who operates GW Performance while also serving as his son's crew chief. "But whenever you're watching you can kind of see stuff happening, and I seen that he was trying to conserve, I guess, is the best way to say it, and the more he did that, the tighter he got. So the lap that (pass) happened, I seen he went down there (into turn one) and missed the bottom and I was like, 'Golly!'
"You never know what can still happen, but Bronson's made a lap or two here (as a local who grew up racing at the track), so he's probably not gonna mess up much."
But as quickly as the race seemed to slip away from Ashton, it suddenly swung back in his favor. Before Bronson could even officially lead a lap, Ashton charged to the outside of turns three and four and powered back around Bronson to maintain command as lap 10 was scored. The slick recovery impressed Gary and proved to be the key move that carried Ashton to a $5,000 triumph.
"You just get out there and whatever happens, happens," Gary said of his son's go-for-broke bid to overturn his error. "Luckily it wasn't so dirty that he got up there and lost all of his grip. It was early enough after a restart that (the top lane) was still sort of packed down and he stuck."
Gary paused, and then added, "I'm proud of him."
Coming from a discerning veteran racer who's known to be critical of his son's performance and focus if either lags, Gary's words were especially meaningful. For Gary to offer Ashton such praise, the 23-year-old kid from Hampton, Ga., must have done something right.
RELATED: Full Results - Lucas Oil Late Model Dirt Series at East Bay
Indeed, it was a run worthy of a father's love by Winger, an excitable, voluble young driver who has flashed plenty of talent in recent seasons but also has hop-scotched through several rides and been embroiled in some controversies thanks to his on-track aggressiveness. Winger's ability to regain the lead from Bronson — who ultimately retired on lap 24 while running third with a broken rear end — without incident and then calmly remain in front for the remainder of the distance demonstrated that he just might be putting everything together as he settles in piloting equipment fielded by Florida racer and businessman Jeff Mathews.
There was nothing ho-hum about Winger's flag-to-flag victory. He earned it with hard-nosed driving in response to his lap-nine slip.
"I think I honestly just got to trying to protect too much," Winger said when asked about leaving the inside line open for Bronson to bolt ahead. "I was laying my corner entry out trying to stop anybody from getting a run to me to the center of (turn) one, and when I did I just got tight and I was probably able to give him plenty of air on his nose and he was able to get down there next to me. I just barely missed the bottom and I ended up in the middle."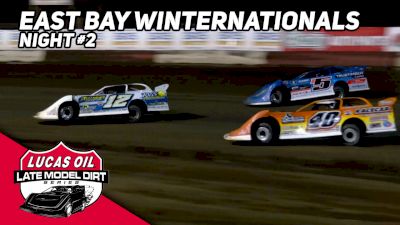 VIDEO: Watch highlights from Tuesday's Lucas Oil Late Model Dirt Series race at East Bay.
Winger didn't hesitate to mount an immediate rally at the other end of the track. What did he tell himself as he slung his Rocket Chassis into turn three?
"Eff it. Just eff it," he said with a smile and a snicker. "Whatever happens, happens."
It was far from a banzai blast through turns three and four, though. Winger noted that "when your race car's really good you can do stuff like that."
"I felt like my car was good enough to do whatever I needed to do, so I was confident in what I did," he said. "But you never know. You win some, you lost most, but it worked out — he left me room and I really appreciate it."
Winger experienced some more threats, including a high-side surge from Brandon Sheppard of New Berlin, Ill., following a lap-21 restart and a stalking Hudson O'Neal of Martinsville, Ind., over the final circuits. He stayed tucked to the bottom, his engine screaming, to fend off both challengers en route to beating O'Neal by 1.833 seconds.
"I definitely heard Sheppard over me a few times, and I figured if I could get through (turn) three well and I didn't have to overdrive in one, I could make pretty could time," Winger remarked. 'S---, I was turning 9,000 rpm out there with the rest of 'em. It worked out and that's why we were able to win tonight."
A winner previously on the national level in World of Outlaws Case Late Model Series and XR Super Series competition, Winger's best previous finish in Lucas Oil Series competition was a second during last year's Winternationals at East Bay. That his breakthrough victory on the Lucas Oil circuit came at East Bay was fitting since Mathews's shop, where Winger has been working since stepping into the ride last October, is 15 minutes away in Seffner, Fla., and Winger has personal connections to the area.
"We've always loved coming down here," Gary Winger said. "There's a guy down here (in Tampa), Johnny Doan Plumbing, he has literally helped Ashton since he ran bandoleros. He's a family friend, and if he's not Ashton's longest (tenured) sponsor, it's really close, and he's one of the ones who was instrumental in putting this deal together (with Mathews). He's really good friends with Jeff and Gene (Farmer) of Angry Elephant Tattoo (a backer of Mathews's team)."
Not even four months into his pairing with Mathews, Winger couldn't picture himself anywhere else.
"I just feel like everybody's for everybody," Winger said. "Most of these teams around, a lot of them got really good guys and a lot of them are really well funded, and some guys work well together and some guys don't. I've kind of had to jump around a little bit and see what fits me, and I said it in my interview earlier: I don't forget anybody who's helped me out, whether I've ended on not-so-great terms with them or not.
"Jeff's been an amazing car owner for me, but Billy Franklin was a good car owner for me (in 2020) and G.R. Smith helped me out a lot (for the first half of 2022) and Augie (Burttram) from Big Frog (Motorsports) helped me out a ton (late last year). I don't forget Danny Hatcher and them guys either. I'll never forget everybody who's gotten me here. And like I've said, if it we didn't necessarily end on the best of terms, I don't have any hard feelings, because at the end of the day, every single one of them guys stuck their neck out and helped me when they didn't have to. I'm thankful for it, and I'm just thankful now to be in a situation where I feel like it's home — and if if this is my last ride I'm gonna be super thankful for it, and if something crazy happens and it's not I may have to go sell insurance or something.
"With everybody here — Jeff, my dad, Gene, Jimmy, my mom, my cousin (the team's tire guy) — this is like our family-run deal," he added, "but Jeff's just turned us loose and gotten us whatever we felt like we needed."
Winger's short stint with Mathews already includes his second career Speedweeks victory (he earned his first last year in a WoO event at Volusia Speedway Park in Barberville, Fla., driving for Smith) and a $20,000 XRSS triumph last December at All-Tech Raceway in Ellisville, Fla. But both Winger and his father believe they've only begun to scratch the surface of what's possible.
"It's weird," Gary Winger said. "We've been doing this on a national level for several years now and we've had some good opportunities, some opportunities that weren't so good. And in the grand scheme of things, you're only looking at over the course of three years and we've been through a lot, but the one thing I really feel good about this deal is, this is the right people. I think we've got the right people put into place as far as ownership that this feels like it's gonna be good.
"I don't even know if we're ready yet. We still don't have stuff in the truck; we're putting together trucks and trailers and we're waiting on getting parts for motors. The most seamless thing about all of it has been the Rocket (Chassis) part of it. Mark (Richards) was pretty instrumental in putting this deal together and Rocket's been awesome — we've had our cars, that's been no issue.
"A lot of stuff's come together in a hurry, and I'm telling you man, if you're not with the right people, that's a recipe for disaster," he continued. "I think the group we've got now is where we need to be. I don't want to get ahead of myself, but it sure feels right."
Ashton can't speak in any loftier tones about Mathews, who wasn't in attendance for Tuesday's victory lane celebration because of work commitments.
"Jeff's been really, really good for me to because he races," Winger said. "I've had car owners who raced before, but Jeff's been the first one that has really constructively criticized me in a way that I understand. He's got a few more miles around the sun than I do and I can't stress enough how thankful I am for him."
In Winger's mind, winning a $5,000 Winternationals feature at East Bay is a harbinger.
"I'm pretty bad about getting too high or too low, but I'm getting a little older now and no matter how good or how bad we run I just try to stay even keel," said Winger, who has recorded three top-five finishes in his four Speedweeks feature starts this year (he's failed to qualify at three events). "One of the guys I look up to is that Brandon Overton — you can't tell when that guy's having a bad day, so I'm trying my best to be like that.
"For me, I've never been afraid to be thrown to the wolves and be kicked in the nuts so to speak. I've always tried to learn from that because I know at the end of the day if I want to be as good as I want to be, as fast, as young, as I am, I'm gonna have to learn and get beat by these guys some.
"As far as confidence-wise goes, I know I have fast race cars. I feel like I've been fast in whatever I've been in," he added. "It's just a feeling of home, and if we win or run 15th I know my guys got my back. And I feel like if we do run 15th it won't last long because I got a bunch of hard-working guys around me and I've got Jeff who will do whatever it takes to help me achieve what we're trying to do."