2023 NASCAR Chilly Willy at Tucson Speedway
Preston Peltier Adds Third Chilly Willy Win To His List
Preston Peltier Adds Third Chilly Willy Win To His List
Preston Peltier scored the victory in the Chilly Willy 150 at Tucson Speedway for the third time, the most wins of anybody in the race's 10-year history.
Feb 6, 2023
by NASCAR Roots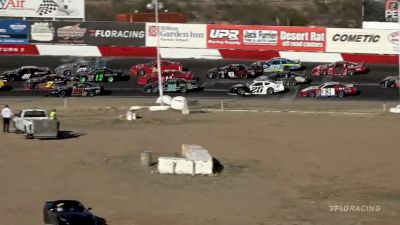 Nothing came easy for Preston Peltier on Sunday at Tucson Speedway in his quest for a third Chilly Willy victory.
Following a spin on Lap 7, Peltier meticulously battled his way back to the front of the field, but the veteran found himself under pressure from Kole Raz throughout the final 40 laps. Raz was trying to become the ninth winner in the event's 10-year history.
Neither Raz nor Peltier gave each other an inch during their intense battle, but experience ultimately prevailed at the checkered flag with Peltier adding another Chilly Willy win to his resume.
"To out-duel Kole there, that's a feather in the cap," Peltier said about his battle with Raz. "I'm sorry I couldn't give it [to Kole], but [he's] going to have to earn it. I enjoy racing those guys, and there was a period where I mentored [guys like Raz]. I want to see them succeed."
Peltier admitted his battle for the win with Raz summarized everything he loves about short-track racing on the West Coast.
Having competed alongside Raz for several years, Peltier has grown comfortable with how the Lake Oswego, Oregon native handles himself on the track. Peltier knew he would get raced clean for the win once Raz was able to pull underneath him in the closing stages.
Raz expected Peltier to remain stalwart in the top groove and tried everything possible to get the run he needed to take control of the race. Despite his best efforts, Raz was left simultaneously enthralled and disappointed about coming one spot short of becoming a Chilly Willy winner.
"I gave it all I had there," Raz said. "The goal during that final yellow was to try and keep [Peltier] in reach. I lost the drive off Turn 2 on the last lap to stay side-by-side with him at the line, but it was a lot of fun. I was just a little short, and it's painful, but we're getting there."
Peltier considers himself fortunate to even be in contention following his Lap 7 spin that put him at the rear of the field.
With Tucson being abrasive on tires, Peltier had to be both aggressive and conservative with his equipment while trying to get back to the front over the ensuing 100 laps. Once he felt enough had been saved, Peltier made his final charge and managed to still fend off Raz, who was on the same strategy.
🏁 Preston Peltier holds off Kole Raz to WIN the Chilly Willy 150!@NASCARroots | @TucsonSpeedway

📺 https://t.co/BLj6HOREAc pic.twitter.com/nsedyBmQ6b

— FloRacing (@FloRacing) February 6, 2023
Now a three-time Chilly Willy winner, Peltier considers Tucson one of his favorite tracks. He's determined to defend his title in the facility's crown jewel event next year.
"I really love [Tucson]," Peltier said. "It really suits my driving style. You can move around a lot, and there's a lot of strategy, which makes it more stressful, because you have to worry about tires and what everyone else is doing. We almost didn't save enough, but I hope everyone enjoyed the show."
Sean Hingorani, who will drive full-time in the ARCA Menards Series East with Venturini Motorsports, also saved his tires like Peltier and Raz, which allowed him to finish third. Zachary Riehl came home in fourth, and Eddie Vecchiarelli rounded out the top-five finishers.
Below are more takeaways from the other feature races on the final day of the 2023 Chilly Willy.
Jake Bellman took home his second consecutive Legend car Pro/Masters win of the weekend after overtaking ARCA Menards Series West driver Tyler Reif on the final restart. Brenden Ruzbarsky finished third, followed by Levie Jones and Tanner Reif, who will compete full-time in the upcoming West Series season with Bill McAnally Racing.
A late pass by Dylan Wolf on Gavin Ray earned him the victory in the Legend car Semi-Pro/Young Lions class. Andrew Riehl came home third, with Bryceton Meyer and T.J. Roberts unofficially completing the top five.
David Levitt claimed the 40-lap Thunder Trucks feature over Zane Mckissick. The rest of the top five consisted of Andy Sole, Adam Farr and Keatone Shane.