2023 Short Track Super Series at All-Tech Raceway
Short Track Super Series Launching 10th Anniversary Season At All-Tech
Short Track Super Series Launching 10th Anniversary Season At All-Tech
The Short Track Super Series will begin its 10th anniversary season with four nights of racing during the Sunshine Swing at All-Tech Raceway.
Feb 6, 2023
by FloRacing Staff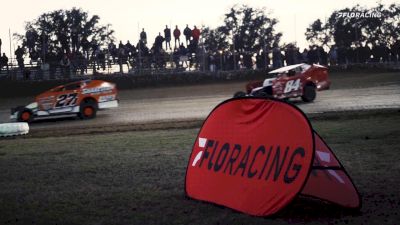 After wet weather nixed the scheduled event at Lake View Motor Speedway in Nichols, S.C., Feb. 2-4, the 10th anniversary Bob Hilbert Sportswear Short Track Super Series (STSS) Fueled By Sunoco season now gets underway in the Sunshine State.
All-Tech Raceway in Lake City, Fla., hosts the annual 'Sunshine Swing' Feb. 7-11 with an open practice on Tuesday and racing nightly Wednesday through Saturday at the Wendell Durrance-promoted facility.
Many of the top names in dirt-track Modified racing will be in STSS Modified action including last season's leading winner Matt Sheppard of Savannah, N.Y., Stewart Friesen of Sprakers, N.Y., Larry Wight of Fulton, N.Y., Erick Rudolph of Ransomville, N.Y., Alex Yankowski of Covington Township, Pa., Billy Pauch Jr. of Frenchtown, N.J., Danny Bouc of Pipersville, Pa., Marc Johnson of Guilderland, N.Y., Danny Creeden of Wurtsboro, N.Y., Jordan Watson of Milford, Del., Darren Smith of Binghamton, N.Y., Danny Johnson of Phelps, N.Y., David Schilling of East Greenbush, N.Y., and many more.
Austin Hubbard of Federalsburg, Md., returns to Florida competition, this time in a Modified, driving the Blades HVAC No. 65. Hubbard is a past Super Late Model star in February Speedweeks competition with victories at Golden Isles and Screven in Georgia.
STSS Modifieds from New York, New Jersey, Pennsylvania, Delaware, Maryland, Connecticut and Quebec have already filed entries.
Wight is the defending 'Sunshine Swing' STSS Modified champion. Wight, Sheppard and Mike Maresca picked up victories last February.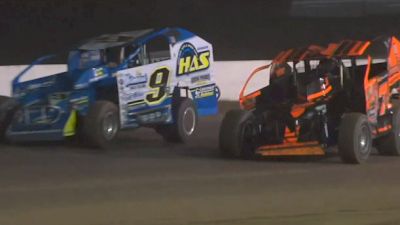 VIDEO: Take a look back at last year's exciting Short Track Super Series opener at All-Tech Raceway.
STSS Modifieds compete for escalating purses throughout the week: $4,000-to-win for 30 laps Wednesday (Feb. 8), $5,000-to-win for 35 laps Thursday (Feb. 9), $6,000-to-win for 40 laps Friday (Feb. 10) and $8,000-to-win for 50 laps Saturday (Feb. 11).
A robust field of STSS Crate 602 Sportsman will tackle the All-Tech clay with drivers registered already from New York, New Jersey, Pennsylvania, Delaware, Vermont, New Hampshire, Massachusetts, Ontario, and Quebec.
Dylan Madsen of Spencertown, N.Y., will attempt to defend his 'Sunshine Swing' STSS Crate 602 Sportsman title from a year ago. Steve Davis, Scott Hitchens and Michael Ballestero were the winners in the '22 'Sunshine Swing' Crate 602 Sportsman events.
The 'Sunshine Swing' Crate 602 Sportsman Friday (Feb. 10) program has gotten more lucrative. The Zacharias family has posted $2,500 in bonus money – $500 to each of the top-five finishers – in memory of Shirley Zacharias. The 'Shirley Shootout' will pay $2,500 to win, $1,500 for second, $1,200 for third, $900 for fourth and $800 for fifth!
Wednesday (Feb. 8) and Thursday (Feb. 9) events pay $1,500 to win each for 25 laps, with Friday (Feb. 10) and Saturday (Feb. 11) offering 30-lap distances for $2,500 and $2,000 to win, respectively.
A complete information center including, times, prices, rules and pay structures for the 'Sunshine Swing' is available at: https://shorttracksuperseries.com/event-info/
The entire week of racing, along with every STSS race in 2023, will be broadcast LIVE on FloRacing (www.floracing.tv).
RELATED: Viewer's Guide - Short Track Super Series Sunshine Swing
All-Tech Raceway is located off Interstate 75 at 1024 SW Howell Rd. Lake City, FL 32024. Learn more at www.alltechraceway.com, call 386.754.RACE (7223) or like All-Tech Raceway on Facebook.
To learn more about the Short Track Super Series Fueled By Sunoco, visit www.shorttracksuperseries.com, e-mail bdmotorsportsmedia@gmail.com, check out 'Short Track Super Series' on Facebook or @ShortTrackSS on Twitter or Instagram.