2023 Lucas Oil Late Model Dirt Series at All-Tech Raceway
Ricky Thornton, Jr. Continues Hot Start With All-Tech Lucas Dirt Win
Ricky Thornton, Jr. Continues Hot Start With All-Tech Lucas Dirt Win
Ricky Thornton, Jr. continued his hot start to the season by winning Saturday's Lucas Oil Late Model Dirt Series race at All-Tech Raceway.
Feb 5, 2023
by Brandon Paul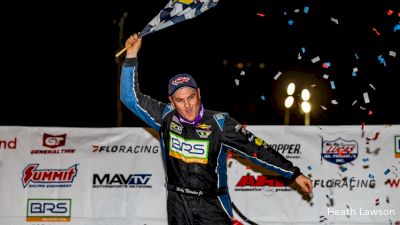 ELLISVILLE, Fla. — Ricky Thornton Jr. had the fastest car during Thursday's Lucas Oil Late Model Dirt Series practice session at All-Tech Raceway. Despite a 24-hour delay thanks to Friday's series rainout, the Chandler, Ariz., native on Saturday backed up that practice speed, as well as the success he's already enjoyed during the 2023 Georgia-Florida Speedweeks.
Thornton led three times for 40 laps, including the final 21 circuits, to win his second Lucas Oil Series feature of the season. He now has two wins, two second-place finishes, a third and a 19th (he was fifth before being spun with two laps remaining) in six Lucas Oil Series starts this season.
"It definitely shows how hard we've worked over the winter. Everybody went on vacation and stuff like that and we just stayed home and made sure our stuff was right for Speedweeks," said Thornton, who finished a half-second ahead of 10th-starting Tim McCreadie of Watertown, N.Y., to earn $15,000 for his sixth career Lucas Oil Late Model Dirt Series victory.
McCreadie managed to stay close at the finish thanks a caution with two laps remaining that erased a 1.427-second advantage by Thornton, who led by more than four seconds with 10 laps to go.
"I saw (McCreadie) there in second and I thought, well I know at least he's not going to slide me," said Thornton. "If he got a good run on me, we would be side by side. I saw him there on the restarts."
The restart is as close as McCreadie could get, however, though Thornton did have to negotiate two restarts with two laps left to keep the two-time and reigning Lucas Oil Late Model Dirt Series champion in check. Eighth-starting Brandon Sheppard of New Berlin, Ill., finished third, while Devin Moran of Dresden, Ohio, was fourth after starting 14th. Completing the top five, Tyler Erb, was the third driver inside the top five to advance at least 10 spots as the New Waverly, Texas, native started back in 21st.
McCreadie, who gained five positions on the opening lap and cracked the top five on lap nine, recorded his fourth runner-up finish in eight Georgia-Florida Speedweeks feature starts thus far. He felt like had he started a little closer to the front he perhaps could have pressured Thornton a little heavier.
"That's just the way it goes. We've had to battle our way every night," McCreadie said. "You think drawing a low pill in a group would be good, and then (the track) rubbers(during time trials) and puts us back in the back of a heat. We just keep battling. One of these days we'll be able to start near the front maybe and can put some pressure on them early so they have to work a little harder than they're working."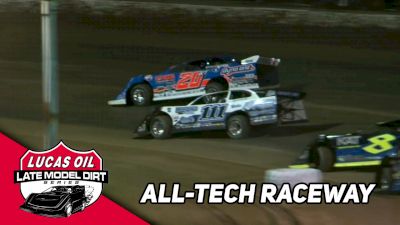 VIDEO: Watch Saturday's Lucas Oil Late Model Dirt Series highlights from All-Tech Raceway.
It was hardly a cakewalk for Thornton though. After grabbing the lead on the opening lap from polesitter and fellow front-row starter Shane Clanton of Zebulon, Ga., Thornton pulled away over the first five laps.
But Clanton quickly got rolling, caught Thornton and made a low move exiting turn two to grab the lead on lap eight. Clanton, chasing his sixth career Lucas Oil Series win, led the next nine laps, but his inability to navigate turn two with consistency allowed Thornton to reclaim the lead on lap 18 and he eventually settled for eighth.
Max Blair of Centerville, Pa., took second from Clanton on lap 24 and wasted little time running down the leader. Hounding Thornton around the inside line, Blair shot into the lead on lap 29, but his time at the front was short-lived as the first of four cautions slowed the race just after Blair took the lead. Blasting by Blair on the lap-29 restart, Thornton reclaimed the lead and never gave it back, while Blair slipped back to fiish seventh.
On each of the two late-race restarts — and just as he had done when he maneuvered back by Blair — Thornton swung wide exciting turn four and used the outside momentum to power by his foes entering into turn one. Once he re-established himself out front, Thornton tiptoed around the top of the tricky 4/10-mile oval to pull away from the field late before holding off McCreadie.
"I felt like it kind of worked being the leader because I could start so high out there and I knew that they would not be able to, so overall it just really worked for me," said Thornton.
Four lead changes among three drivers; four drivers improved 10 positions or more (Kyle Bronson's 20th-to-ninth rally was the fourth); and only one driver — Thornton — who started inside the top five finished inside the top five. Sheppard, who won one of the tour's two visits to All-Tech last season, said that was just business as usual for the sprawling oval near Lake City.
"That's typical All-Tech right there," said Sheppard, whose third-place finish was his best in eight Georgia-Florida Speedweeks starts this season. "That was a lot of fun. It was tricky, slippery all over the place. You could chase the brown a little bit. It was just a good night. We've been needing this for sure. The practice night there the other night helped us here a lot. (We) learned a lot of stuff on the car."
Notes: Thornton notched his sixth career Lucas Oil Series win, tying him with Shane Clanton, Devin Moran, Jared Landers, Matt Miller and Scott James on the tour's all-time win list. … The race, which went caution free during the first 28 circuits, was slowed by four cautions. Three came in the final nine laps. … Earl Pearson Jr. hit the wall to draw a caution on lap 41 and slowed with a flat to draw a caution on lap 48. … Jonathan Davenport spun on the lap-48 restart for the feature's final yellow. … There have been five different winners in the five Lucas Oil Late Model Dirt Series races at All-Tech Raceway since he series first visited in 2020: Ricky Thornton Jr., Brandon Sheppard, Jimmy Owens, Kyle Larson and Jonathan Davenport. … Brandon Overton of Evans, Ga., a two-time series winner this season, failed to transfer into the main event. … Davenport, of Blairsville, Ga., struggled in prelims, lost a driveshaft and needed a provisional to start the main event. … The Lucas Oil Late Model Dirt Series has a scheduled practice at East Bay Raceway Park on Gibsonton, Fla., on Sunday before Georgia-Florida Speedweeks resume Monday at East Bay.