2023 Lucas Oil Late Model Dirt Series at Bubba Raceway Park
Jonathan Davenport Bounces Back After Discouraging Night
Jonathan Davenport Bounces Back After Discouraging Night
After a discouraging Sunday night, Jonathan Davenport bounced back with a Lucas Oil Late Model Dirt Series victory at Bubba Raceway Park on Monday.
Jan 31, 2023
by FloRacing Staff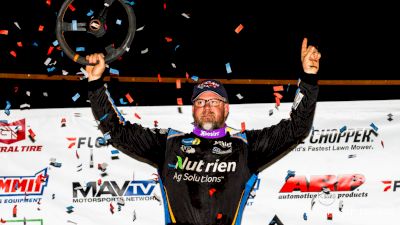 OCALA, Fla. — Shaking off a discouraging night just 24 hours earlier at Bubba Raceway Park, Jonathan Davenport of Blairsville, Ga., led 37 of 40 laps to win Monday's BRP Winter Nationals finale at the quirky D-shaped track just north of Ocala.
Davenport, set the overall fastest lap among 39 entries during time trials on Sunday, but his time was negated when his car weighed in 23 pounds light. Davenport salvaged an eighth-place finish after starting 19th in Sunday's main event. On Monday, the three-time Lucas Oil Late Model Dirt Series champion had to work equally as hard, but didn't have to pass near as many competitors.
He led the first 25 laps from the outside front row starting position, gave way to third-starting Dennis Erb Jr. of Carpentersville, Ill., for three laps and then led the final 12 circuits for his first Lucas Oil Series win of the season and a $10,000 payday.
"I screwed up off of turn four there (and let Dennis Erb by)," said Davenport. "It was getting pretty slick and then it was starting to take rubber in a few places, so I just pushed her across the corner and left the bottom open. Luckily (Erb Jr.) raced me clean and I had a pick there with (Kyle) Bronson. So I just drove the s--- out of it and tried to get back by him and hold him up behind Bronson. Then I knew I couldn't do that again."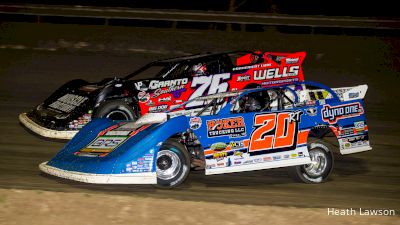 VIDEO: Watch highlights from Monday's Lucas Oil Late Model Dirt Series feature at Bubba Raceway Park.
After regaining the lead, Davenport had to hold on following cautions on lap 37 and lap 39 before winning by 1.061 seconds ahead of polesitter Ashton Winger of Hampton, Ga., who slipped by Erb Jr. on the restart with three laps to go. Furth-starting Tyler Erb of New Waverly, Texas, and Devin Moran of Dresden, Ohio, who started 12th, completed the top five in the 40-lap feature slowed by four cautions.
"I was afraid on one of those last restarts that somebody was going to throw a hail Mary around the top there," Davenport said. "I didn't know how good it was, but I was just going to stick to what we was doing there. Man it feels good to be back up here in victory lane. My guys have been working really hard. It's just circumstantial stuff is the reason I think we ain't been up here (with a Lucas Oil Series win) yet. Just dumb racing luck and that's what you got to have sometimes is a little bit of luck to go with a fast car."
It wasn't necessarily luck, but when Erb Jr. drove by Davenport on the bottom, forcing him to ride a width higher for a few laps, Davenport found the traction he needed to stay even up front. He then got a whale of a run exiting turn two and motored back by Erb Jr. on the outside to secure the lead for good.
"I was just moving around there and just kept trying to find a little bit of brown there," Davenport said. "I was afraid I was going to move to the brown and out of the rubber but I just kept changing my line a little bit every lap just trying to find something, just trying to make (crew chief and spotter) Cory (Fostvedt) up here a little happier so he could hold those sticks a little further apart."
Davenport managed to stay just ahead of Erb Jr. as the laps wound down, but the two late cautions gave Winger an opportunity to grab second and set his sights on the leader and his first career Lucas Oil Series win.
"J.D. just out drove me there," said Winger. "I had two shots, the start and probably my best shot was that last restart where I was able to find that middle down there in (turns) one and two and roll through that corner. I just didn't really get turned down here to catch that brown down the straightaway and I let Dennis get back up beside me and that was just all I could do was to hang on to second."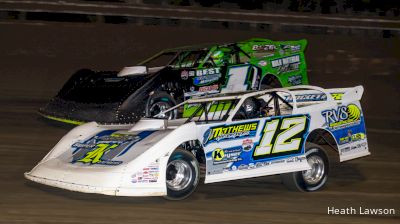 VIDEO: Ashton Winger left Bubba Raceway Park wanting more on Monday night.
Winger who won back-to-back Crate Late Model starts Jan. 27-28 during the 47th annual Winternationals at East Bay Raceway Park in Gibsonton, Fla., improved one spot from Sunday's third-place effort at Bubba Raceway Park, was neither disappointed nor overjoyed with Monday's runner-up finish.
"You know, we're running good and this is awesome, but I expect a lot out of myself," Winger said. "We're having good runs and we're not tearing nothing up, it's just I think I'm good enough to race with these guys. I just make really dumb mistakes sometimes in my head.
"My car is really good. I really feel like I had a car capable of keeping pace there and contending for a win, I just didn't do what I needed to do to put ourselves in the right spot. J.D. did a good job and I'm glad to get to race with him and learn from him."
Being close enough to Davenport to take advantage of the leader's mistake was a positive for Erb Jr. following a lackluster Georgia-Florida Speedweeks thus far. After his night ended with his car perched on its side on top of Tim McCreadie's car following a crash on a restart late in Sunday's feature — knocking him from a top-five finish — Erb Jr. was simply glad to leave Ocala with a solid podium finish, his best of the season.
"I probably should have moved around a little bit," Erb Jr. said. "The car was working good. I just had a little bit of a problem over in turns three and four, steering, to come off the corner good over there. All in all, after last night to have a good finish here tonight really helps."
Notes: Davenport won his 66th career Lucas Oil Late Model Dirt Series race, his 17th career Georgia-Florida Speedweeks feature and his third Lucas Oil Series event at Bubba Raceway Park. … He win at BRP in 2016 and 2018. … It marked Davenport's first Georgia-Florida Speedweeks win since Feb. 9, 2020 at All-Tech Raceway in Ellisville, Fla. … The race was slowed by four cautions, the first in the opening lap thanks to a seven-car melee involving Hudson O'Neal, Tanner English, Jack Riggs, Logan Roberson, Wil Herrington, Brandon Sheppard and Kyle Larson. … Herrington and Larson were finished for the night, while Riggs completed just two laps and Roberson just six laps. … The second caution came out when Kyle Bronson spun on the lap-one restart. … Third caution was on lap 37 when Blair Nothdurft spun in turn three. … The fourth and final caution waved when Ricky Thornton Jr. spun in turn four after contact from Devin Moran, giving up the fifth position with on lap remaining. Moran accepted blame for the incident during his postrace interview. … Thornton's spin relegated him to 19th, snapping his streak of three straight podium finishes to start the Lucas Oil Series season. ... English managed to rally from 27th to finish 12th. … The series is off until Feb. 3-4 at All-Tech.