2023 NASCAR Chilly Willy at Tucson Speedway
Tucson Speedway Gearing Up For 10th Annual Chilly Willy 150
Tucson Speedway Gearing Up For 10th Annual Chilly Willy 150
Arizona's Tucson Speedway is expecting more than 30 Super Late Models for their season-opening Chilly Willy 150 February 3-5.
Jan 25, 2023
by Rob Blount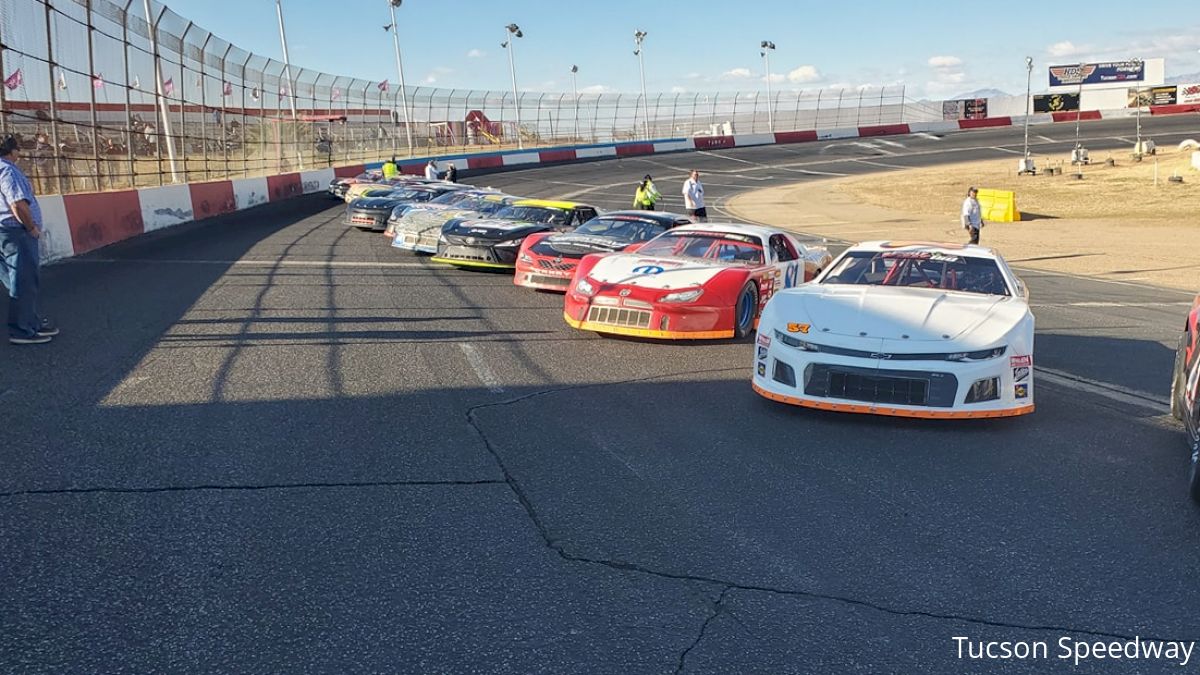 The 2023 Super Late Model season out west is about to get underway at Arizona's Tucson Speedway with the 10th Annual "Chilly Willy 150" February 3-5. Since the race first took place in 2014 it has only grown year-over-year, and has gained the prestige of being one of the first Super Late Model races of each season.
The three-day event kicks off with a 50-lap Super Late Model feature on Friday, February 3. On Saturday, the Super Late Models will partake in a qualifying session to determine the lineup of two 50-lap qualifying duels to set the field for Sunday's $10,000 to win 150-lap Chilly Willy feature. All three days of racing from Tucson can be seen live on FloRacing.
In addition to the Super Late Models, fans will be able to see Legends, Modifieds, Pro Stocks, and Thunder Trucks in action all weekend as well.
So far, more than 25 Super Late Models have filed entries with the Tucson Speedway offices for this year's Chilly Willy 150.
Steve Apel will be making the 27-hour, 1,738-mile drive from Slinger, Wisconsin to Tucson Speedway in Arizona to compete. Apel is a past Slinger Nationals champion, a five-time track champion, and a formidable competitor every race he enters.
Greely, Colorado's Brett Yackey will also be making the trip west to Tucson. Yackey is extremely familiar with the 3/8-mile oval. In 2021 he took home the Turkey Shoot, as well as the Super Late Model track championship.
The man who claimed the championship the year before Yackey will also be competing in this year's Chilly Willy 150. That man is Oswego Lake, Oregon's Kole Raz. Raz won the Super Late Model track championship in 2020 and finished second in points in 2019.
Kody Vanderwal put everyone on notice in 2022 that he'd be one to beat in 2023. The LaSalle, Colorado native charged from the 24th starting position to finish second in last year's Chilly Willy 150.
Another driver that will be one to watch is Oregon's Austin Thom. Even though Thom rarely races at Tucson, Thom won the most recent Super Late Model race held at the track, the 2022 Turkey Shoot 125 back in November. Thom dominated the day, setting fast time in qualifying, then winning his heat race, and then going on to win the 125-lap feature.
Since 2014, winners of the Chilly Willy 150 include: Dustin Ash (2014), Tayler Riddle (2015), Chuck Wares (2016), Owen Riddle (2017), Chris Eggleston (2018), Michael Scott (2019), Preston Peltier (2020), Christian McGhee (2021), and Peltier for the second time in 2022.
Race fans can watch the entire weekend of racing from Tucson Speedway live on FloRacing beginning on Friday, February 3 with the 50-lap feature. Saturday, February 4 will see time trials and the qualifying duels, and Sunday February 5 will see the 150-lap Chilly Willy feature. If you are not already a FloRacing subscriber, join today by clicking here.