2023 Lucas Oil Late Model Dirt Series at Golden Isles Speedway
FloRacing's Ultimate Georgia-Florida Speedweeks Watch Guide
FloRacing's Ultimate Georgia-Florida Speedweeks Watch Guide
A day-by-day look at FloRacing's live broadcast schedule for a full month of racing during Georgia-Florida Speedweeks.
Jan 23, 2023
by Brandon Paul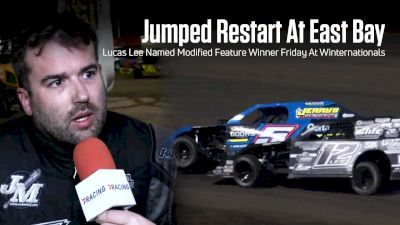 Drivers, teams and fans from various forms of motorsports are gearing up for one of the busiest stretches of the racing season this January and February. The traditional Georgia-Florida Speedweeks packs a big punch with oodles of racing events on both dirt and pavement taking place over a one-month period.
If you like racing (and a lot of it), Georgia-Florida Speedweeks is exactly what the doctor ordered for you. The traditional stretch of racing takes place in the states of Florida and Georgia beginning in late January. Traditionally, the grassroots racing events all help set the stage for the Daytona 500 at Daytona International Speedway on February 19.
Throughout the two month period, a handful of popular touring series such as the Lucas Oil Late Model Dirt Series, Short Track Super Series, Tezos All Star Circuit of Champions, USAC and NASCAR Whelen Modified Tour kick off their seasons.
This year, a large portion of Georgia-Florida Speedweeks events will be served to racing fans all over the globe through live streams on FloRacing. Currently, 17 different events are slated to be streamed live on FloRacing with a combined total of 58 nights of racing during a four-week stretch beginning January 26 and ending February 26.
Let's take a look at the day-by-day breakdown of events you can watch each night.
Monday, February 6
| | | |
| --- | --- | --- |
| Series/Event | Track | Live Stream |
| Lucas Oil Late Model Dirt Series | East Bay Raceway Park (FL) | |
Tuesday, February 7
| | | |
| --- | --- | --- |
| Series/Event | Track | Live Stream |
| Lucas Oil Late Model Dirt Series | East Bay Raceway Park (FL) | |
| Tezos All Star Circuit of Champions | Volusia Speedway Park (FL) | |
Wednesday, February 8
| | | |
| --- | --- | --- |
| Series/Event | Track | Live Stream |
| Lucas Oil Late Model Dirt Series | East Bay Raceway Park (FL) | |
| Tezos All Star Circuit of Champions | Volusia Speedway Park (FL) | |
| Short Track Super Series | All-Tech Raceway (FL) | |
Thursday, February 9
| | | |
| --- | --- | --- |
| Series/Event | Track | Live Stream |
| Lucas Oil Late Model Dirt Series | East Bay Raceway Park (FL) | |
| Short Track Super Series | All-Tech Raceway (FL) | |
Friday, February 10
| | | |
| --- | --- | --- |
| Series/Event | Track | Live Stream |
| Lucas Oil Late Model Dirt Series | East Bay Raceway Park (FL) | |
| Short Track Super Series | All-Tech Raceway (FL) | |
| World Series of Asphalt | New Smyrna Speedway (FL) | |
Saturday, February 11
| | | |
| --- | --- | --- |
| Series/Event | Track | Live Stream |
| Lucas Oil Late Model Dirt Series | East Bay Raceway Park (FL) | |
| Short Track Super Series | All-Tech Raceway (FL) | |
| World Series of Asphalt | New Smyrna Speedway (FL) | |
| NASCAR Whelen Modified Tour | New Smyrna Speedway (FL) | |
Sunday, February 12
| | | |
| --- | --- | --- |
| Series/Event | Track | Live Stream |
| World Series of Asphalt | New Smyrna Speedway (FL) | |
Monday, February 13
| | | |
| --- | --- | --- |
| Series/Event | Track | Live Stream |
| World Series of Asphalt | New Smyrna Speedway (FL) | |
| Tezos All Star Circuit of Champions | East Bay Raceway Park (FL) | |
Tuesday, February 14
| | | |
| --- | --- | --- |
| Series/Event | Track | Live Stream |
| World Series of Asphalt | New Smyrna Speedway (FL) | |
| Tezos All Star Circuit of Champions | East Bay Raceway Park (FL) | |
Wednesday, February 15
| | | |
| --- | --- | --- |
| Series/Event | Track | Live Stream |
| World Series of Asphalt | New Smyrna Speedway (FL) | |
Thursday, February 16
| | | |
| --- | --- | --- |
| Series/Event | Track | Live Stream |
| World Series of Asphalt | New Smyrna Speedway (FL) | |
| Winternationals - Sprint Week | East Bay Raceway Park (FL) | |
| USAC Winter Dirt Games - Sprints Cars | Bubba Raceway Raceway Park (FL) | |
Friday, February 17
| | | |
| --- | --- | --- |
| Series/Event | Track | Live Stream |
| World Series of Asphalt | New Smyrna Speedway (FL) | |
| Winternationals - Sprint Week | East Bay Raceway Park (FL) | |
| USAC Winter Dirt Games - Sprints Cars | Bubba Raceway Raceway Park (FL) | |
Saturday, February 18
| | | |
| --- | --- | --- |
| Series/Event | Track | Live Stream |
| World Series of Asphalt | New Smyrna Speedway (FL) | |
| Winternationals - Sprint Week | East Bay Raceway Park (FL) | |
| USAC Winter Dirt Games - Sprints Cars | Bubba Raceway Raceway Park (FL) | |
Wednesday, February 22 - Sunday, February 26
| | | |
| --- | --- | --- |
| Series/Event | Track | Live Stream |
| Lights Out 14 | South Georgia Motorsports Park | |
COMPLETED EVENTS
Thursday, January 26
| | | |
| --- | --- | --- |
| Series/Event | Track | Live Stream |
| Lucas Oil Late Model Dirt Series | Golden Isles Speedway (GA) | |
| Winternationals - Crate Week | East Bay Raceway Park (FL) | |
Friday, January 27
| | | |
| --- | --- | --- |
| Series/Event | Track | Live Stream |
| Lucas Oil Late Model Dirt Series | Golden Isles Speedway (GA) | |
| Winternationals - Crate Week | East Bay Raceway Park (FL) | |
| US Street Nationals | Bradenton Motorsports Park (FL) | |
Saturday, January 28
| | | |
| --- | --- | --- |
| Series/Event | Track | Live Stream |
| Lucas Oil Late Model Dirt Series | Golden Isles Speedway (GA) | |
| Winternationals - Crate Week | East Bay Raceway Park (FL) | |
| US Street Nationals | Bradenton Motorsports Park (FL) | |
Sunday, January 29
| | | |
| --- | --- | --- |
| Series/Event | Track | Live Stream |
| Lucas Oil Late Model Dirt Series | Bubba Raceway Park (FL) | |
| US Street Nationals | Bradenton Motorsports Park (FL) | |
Monday, January 30
| | | |
| --- | --- | --- |
| Series/Event | Track | Live Stream |
| Lucas Oil Late Model Dirt Series | Bubba Raceway Park (FL) | |
Tuesday, January 31
| | | |
| --- | --- | --- |
| Series/Event | Track | Live Stream |
| Winternationals - Modified Week | East Bay Raceway Park (FL) | |
Wednesday, February 1
| | | |
| --- | --- | --- |
| Series/Event | Track | Live Stream |
| Winternationals - Modified Week | East Bay Raceway Park (FL) | |
Thursday, February 2
| | | |
| --- | --- | --- |
| Series/Event | Track | Live Stream |
| Winternationals - Modified Week | East Bay Raceway Park (FL) | |
Friday, February 3
| | | |
| --- | --- | --- |
| Series/Event | Track | Live Stream |
| Winternationals - Modified Week | East Bay Raceway Park (FL) | |
| Winter Freeze | Screven Motor Speedway (GA) | |
Saturday, February 4
| | | |
| --- | --- | --- |
| Series/Event | Track | Live Stream |
| Winternationals - Modified Week | East Bay Raceway Park (FL) | |
| Lucas Oil Late Model Dirt Series | All-Tech Raceway (FL) | |
| Winter Freeze | Screven Motor Speedway (GA) | |