2023 Lucas Oil Chili Bowl Nationals
Jack Hewitt Escapes Van Fire On Drive Home From Chili Bowl
Jack Hewitt Escapes Van Fire On Drive Home From Chili Bowl
National Sprint Car Hall of Fame member Jack Hewitt and his wife lost their van in a highway fire on their way home from the Lucas Oil Chili Bowl.
Jan 21, 2023
by Rob Blount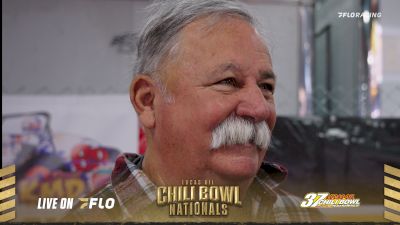 Legendary open-wheel driver Jack Hewitt and his wife, Jody, were on their way home from the 37th Annual Lucas Oil Chili Bowl Nationals when their van caught on fire and burned down. Fortunately, both managed to escape and are okay, but everything inside the van has been lost.
A GoFundMe has been created by Cody Terry to try to help the Hewitt's repurchase some of what they lost. The van itself, their luggage, and much of their merchandise was lost in the fire. As of January 21st the GoFundMe has raised more than half of its $2,500 goal. You can find the GoFundMe here.
Race fans saw Hewitt all week long in Tulsa, Oklahoma signing autographs, selling books and other merchandise just inside the turnstiles at the SageNet Center. Hewitt gave an epic interview, as he has a habit of doing, about the Chili Bowl and some of the storylines surrounding this year's event.
Hewitt is a two-time USAC Silver Crown Series champion with titles coming in 1986 and 1987, as well as an All Star Circuit of Champions champion with that title coming in 1985. Hewitt, known for his fierce competitiveness, was inducted into the National Sprint Car Hall of Fame in Knoxville, Iowa in 2002.