2023 Lucas Oil Chili Bowl Nationals
Logan Seavey Manages Perfect Race To Win Lucas Oil Chili Bowl
Logan Seavey Manages Perfect Race To Win Lucas Oil Chili Bowl
Logan Seavey made the right moves at the right times to win Saturday's 37th Annual Lucas Oil Chili Bowl Nationals.
Jan 15, 2023
by Brandon Paul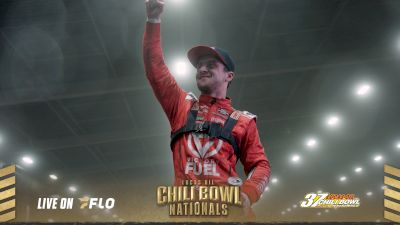 Logan Seavey knew he needed to be perfect during the closing laps of Saturday's 37th Annual Lucas Oil Chili Bowl Nationals. With defending race winner Tanner Thorson hot on his heels, Seavey did exactly that and managed a perfect race to claim the biggest win of his racing career.
The win for Seavey came in his first attempt driving the No. 39 Midget for car owner Kevin Swindell and the Swindell SpeedLab/Bertrand Motorsports team.
"I'll let you know tomorrow," Seavey said when asked what it meant to win the Chili Bowl. "For right now, it feels awesome. It didn't really set in until I got the driller and got to talk to Kevin for a little bit. Man, I'm just so happy to do it for Kevin, he deserves it. He'd probably have a lot more if it wasn't for his accident. It means a lot to win this race in general, but to win it in the 39 in my first try is really, really cool."
Seavey led the 24-car field to the green flag for the 55-lap main event and led the opening laps before Cannon McIntosh entered the picture. McIntosh began challenging Seavey for the lead and took over the top spot on lap 19.
Seavey remained in striking position until a restart on lap 29 gave him an opportunity to retake the lead. At that point, Thorson made his way by McIntosh for the runner-up spot and closed in on Seavey for the lead.
Thorson stalked Seavey during the closing laps of the race but couldn't find what he needed to make the winning pass.
"I tried. I tried," Thorson said. "I wasn't going to dump him because I didn't want to wreck him, and I didn't want to get sent to the back. I got into the middle and caught a little bit of rubber and got a good run on him. I definitely got into the back of him, I was trying to get him up off the bottom. I got close to him one time and I tried that one time but the race was coming to the end. If I had another shot at him, no offense Logan, but I probably would've done it again."
Seavey was surprised that he didn't feel more contact from Thorson behind him.
"Not really bracing for crashing," Seavey said. "Like he said, I feel like we have a lot of respect for each other and we race really hard. I never was worried about being crashed. I was worried about getting hit in the back and getting tight. I felt like my best option was to brake straight like you would on a pavement track. I expected a little more bumper, but I wasn't worried about being crashed."
As Thorson closed in on the race leader, Seavey made a decision to pull to the bottom of the race track and play defense. It was a decision that he believes won him the race.
"Once I could see Tanner's nose three or four times in three and four, I knew if I made even a slight mistake he would go right by," Seavey stated. "I kind of pulled down and as soon as I pulled down to the bottom it was pretty rubbered up. That was it. If I waited even another lap, Tanner would be sitting here and I would be in second. I just happened to make the right move at the right time and it worked out."
After leading 10 laps during the middle portion of the race, McIntosh fell back to third at the checkered flag. It was a finish that left the Oklahoma native wanting more.
"I think it's frustrating after leading probably at least 10 laps there," McIntosh said. "I knew these guys would be coming, they're a couple of the best drivers I've raced against. You know they're going to be coming, so you have to make adjustments and move around. I think I should've dialed the shocks out quicker than I did and just started pounding the top earlier to get my momentum going."
Shane Golobic and Emerson Axsom completed the top five on Saturday night.
At the end of the night, the win for Seavey serves as a career-defining moment. At the age of 25, he feels like he's at the top of his game with a lot left to accomplish.
"I feel like I still have a long time. I feel like a lot of people get better and better as they get older, especially in the style of racing I do. Justin Grant just won the Sprint Car championship in like his 10th or 11th try, maybe more than that. Right now I'm driving as good as I ever have. There were a few years there racing with Keith that I was on top of it, and I feel like the last year or two I've been okay but haven't put races together like I did today. Today I ran a good race and my car was good enough to win."