2023 Wild West Shootout at Vado Speedway Park
Pierce Ends Davenport's Hopes Of Lucrative Wild West Shootout Sweep
Pierce Ends Davenport's Hopes Of Lucrative Wild West Shootout Sweep
With a win on Friday night, Bobby Pierce crushed Jonathan Davenport's hopes of a lucrative Wild West Shootout sweep.
Jan 14, 2023
by FloRacing Staff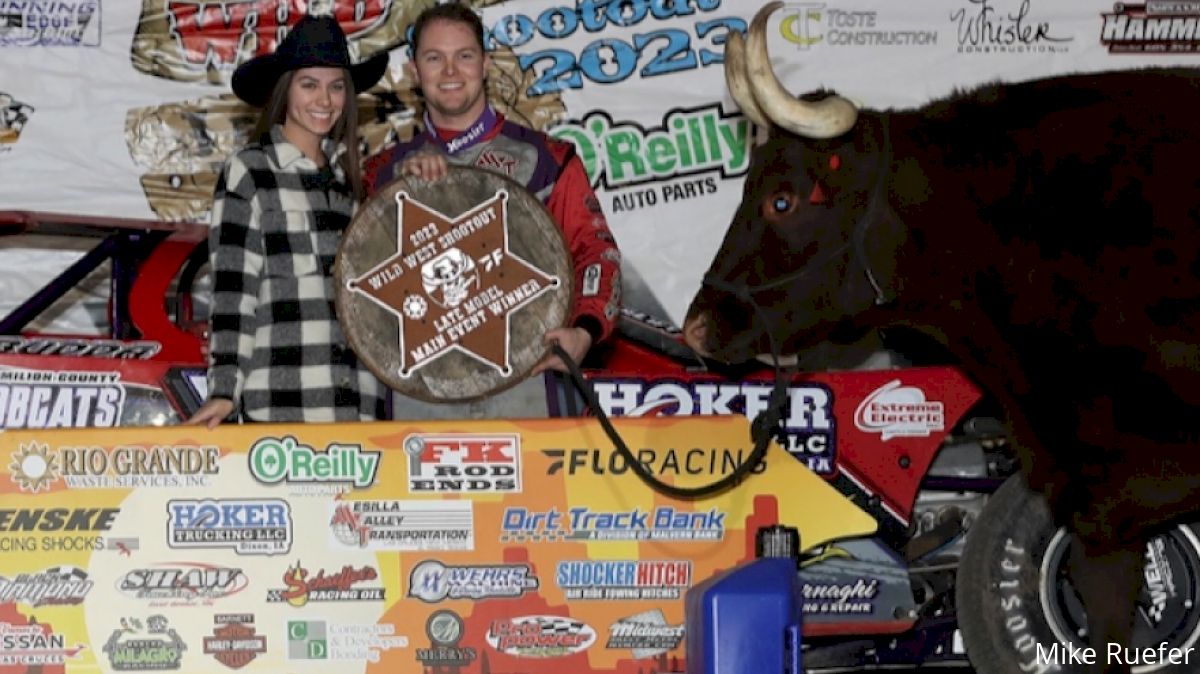 VADO, N.M. — Lots of questions were rolling through Bobby Pierce's mind before a two-lap shootout Friday at the conclusion of the fourth round of the Rio Grande Waste Services Wild West Shootout at Vado Speedway Park.
Could he snap Jonathan Davenport's three-race winning streak? Could he grab his first career victory in a Longhorn Chassis? Could he earn $10,000 and fire the six-shooters in victory lane?
Instead of getting antsy behind the wheel, the 26-year-old Oakwood, Ill., driver made sure he didn't get caught up in the moment.
The fifth-starting driver who overtook Davenport with an 18th-lap slide job at the 3/8-mile oval held on the final two laps to capture the 30-lapper, ending Davenport's chances at the $300,000 Penske Racing Shocks Paydirt Jackpot and six-race sweep by taking the checkers 0.950 of a second ahead of the winner of the first three miniseries events.
The runner-up can still cash in on the bonus program Saturday and Sunday with a fourth victory, worth $25,000, or a fifth victory, worth $100,000.
Pole-starting Garrett Alberson of nearby Las Cruces, N.M., mixed it up with the frontrunners halfway through the 30-lapper and finished third while 20th-starting NASCAR star Kyle Larson of Elk Grove, Calif., and Brandon Sheppard of New Berlin, Ill., rounded out the top five.
While Davenport had been the only driver to visit victory lane, Pierce's Longhorn was strong in leading the most laps of the opener followed by third- and second-place finishes. Pierce's calming strategy Friday following a lap-29 caution for Dillon McCowan's flat tire — an incident just in front of the leaders — helped him snap Davenport's streak.
"I sat there on that restart with two (laps) to go, and I was like, 'You know, it's my race to lose,' I thought to myself you know, it's definitely a win that I wanted. My first win in a Longhorn and J.D.'s been on a hot streak here," Pierce said. "But I just thought to myself, just pretend that you're not racing for a big win. Just think you'll be in this situation many more times, racing for maybe a million dollars."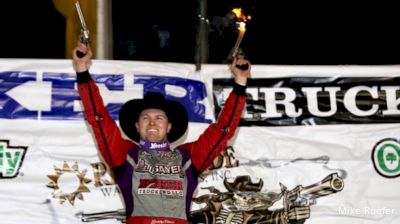 VIDEO: Bobby Pierce discusses his victory Friday night at the Wild West Shootout.
While the stakes weren't quite that high, Pierce was glad to get on track after an offseason switch from his family's Pierce Race Car to the North Carolina-based Longhorn Chassis.
"I can't thank everybody enough for putting me in this position," he said. "I just really hats off to everybody, whether it's the crew guys, sponsors, everyone helps me out. I was on the phone with Matt (Langston of Longhorn Chassis today and he) helped me get through these holes. We finally made the right call on the tires."
While Davenport had to give up the black cowboy hat he'd worn three times in victory lane, the outside front-row starter took his hat off to Pierce for outrunning him on the high side.
"I just changed my line a little bit (after a lap-10 restart) and then I guess Bobby found the extreme high side, you know, there in (turns) one and two," Davenport said. "Once I moved up there, I could keep pace with him, but it's just (that) sometimes it's better (to be running) second. But I ain't got no excuses. My guys gave me another great car again. Cory (Fostvedt), Vinny (Guliani) and Michael (Bixby) done a great job. I did the best I could. We just come up one spot short. But hey, we still run second. We can't hang your head about that."
Besides the caution for McCowan's flat, the only other slowdown came on the 10th lap when Kyle Beard, losing control with problems with his left-front wheel, got into the outside wall in a multicar tangle that also left Beard's father-in-law Terry Phillips with significant damage; Justin Duty (retired) and Mikey Kile were among other drivers involved.
Fifth round action resumes Saturday with hot laps at 3:30 p.m. and heat races beginning at 5 p.m. with a $10,000-to-win Super Late Model feature highlighting the three-division program.
Notes: Pierce notched his first victory since a Dec. 1 preliminary feature victory indoors at the Castrol Gateway Dirt Nationals in St. Louis at the The Dome at America's Center. … NASCAR star Kyle Larson ran into trouble in heat action in a collision with the slower car of Trenton Jessen that send Jessen's car into a rollover; neither driver was injured but it cost Larson a runner-up spot to Bobby Pierce in the sixth heat. He rallied from 12th to win a consolation race and transfer to the main event, where he rallied to fourth from 20th. ... Garrett Alberson drew for the pole position for the third time in four events and posted his first top-five finish on the miniseries for '23. … Third-heat winner Dustin Sorensen, new driver of the MB Customs house car, is 4-for-4 in transferring to features but transferred for the first time without having to run a consy. … Colorado driver Scott Lewis scratched for the night after time trials with engine problems; he's making an engine swap for Saturday's action.