2023 Wild West Shootout at Vado Speedway Park
NASCAR Star Kyle Larson Racing At A New Track This Week
NASCAR Star Kyle Larson Racing At A New Track This Week
Vado Speedway Park is a track Kyle Larson has never seen, but he's excited to get there for the Wild West Shootout next week
Dec 30, 2022
by Rob Blount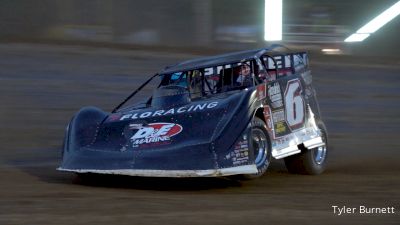 When the Dirt Late Model world descends upon Vado, New Mexico in one week's time, race fans of that area will get to see one driver that they've never seen in person before. That driver is the 2021 NASCAR Cup Series champion, Kyle Larson.
Larson, who recently moved to Arizona, said he's been watching and following the Wild West Shootout at Vado Speedway Park the last few years, and decided this was the year to head out west to finally race it.
"I've ran the Chili Bowl for the last 15 years and I just wanted to try something different," Larson explained. "It just so happens that it falls on the same week. I was probably not going to run the Chili Bowl regardless, so it was a decision of do we go on a family vacation or do we go racing? Our baby is due any day now, so we figured we can't go on a family vacation. So we might as well go race. I'm excited about it. Thanks to Kevin Rumley to make the long tow out to New Mexico and try to make some money."
The 2021 Prairie Dirt Classic winner has raced only one time in his career in the state of New Mexico, more than a decade ago before anyone really knew the name Kyle Larson. He said that going to a new region was one of the big draws for him heading to Vado.
"I wanted to get there in an area that I've really never raced at since I've been anybody in racing," Larson said. "There's hopefully some fans in that region that will come out to watch the race or tune in online. I love doing what I can to grow the sport. I feel like this is a race in a time of year that needs some help. I wanted to join along and see if I can help."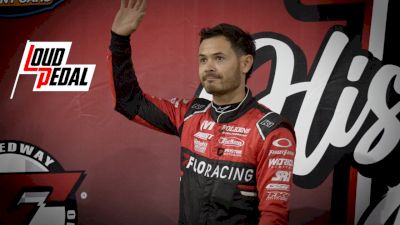 VIDEO: Kyle Larson joined the Loudpedal Podcast to discuss his winter race schedule and more.
The other big draw for Larson was the available prize and bonus money that is on the line all week long. Each of the five preliminary night features will pay $10,000 to the winner with Saturday's finale paying $25,000. On top of that, the Penske Racing Shocks "Penske Paydirt Jackpot" will pay out a massive $300,000 prize if any driver is able to sweep all six nights of racing. If a driver scores five wins, they will pick up a $100,000 bonus, and if a driver is able to score at least four victories during the week then they will receive a $25,000 bonus.
"It's kind of what helped me sell it to Kaitlyn on me going," Larson said. "Like, 'Hey if I win a couple of these I can get some bonus money.' It's just amazing how much money is in Dirt Late Model racing between the actual purses and the bonuses that they throw out there for drivers to chase. It also adds to the storylines and keeps fans engaged and probably gets the drivers driving harder than they otherwise would on a normal night."
Larson also said he loves the idea of racing six races in one week's time. He said it gets him in better shape for when it's time to return to the day job at the Los Angeles Memorial Coliseum in early February for the NASCAR Busch Light Clash.
"Especially because I haven't been racing this offseason at all. For me to go, and having a baby and all that, to be able to pile in a bunch of races in a short amount of time is good for me. It will hopefully get me fresh for the NASCAR season that starts in just a few weeks."
Even though he hasn't raced hardly at all this offseason, Larson said he's been doing plenty of homework to be ready for his first trip to the 3/8-mile Vado Speedway Park facility.
"I've had a lot of free time at night after the kids go to bed, so I pull up FloRacing and watch some racing. I've watched like all of the main events. I've watched some qualifying, and some heat racing. Just to get an idea of what the track does throughout the night as it gets colder. Thankfully there is a practice night before it gets started so I can shake off any rust and kind of learn the track before we go straight into racing."
While Larson's goal is always to win, he will be satisfied with knowing that he helped grow the Wild West Shootout as an event and racing in New Mexico.
"I love racing at new tracks. I've raced at 195 tracks in my career, so this will be track 196. I'm excited to get to that region and meet new fans that I've never raced in front of. I'm going to enjoy my time and try and grow the event and do what I can to have a positive impact on the sport."
Race fans unable to make it to Vado, New Mexico for the Wild West Shootout will be able to watch all six night of racing live on FloRacing. If you're not already a FloRacing subscriber, click here to sign up today.