2023 High Limit Sprint Series at Lakeside Speedway
Trackhouse Racing, Shane Stewart Team Up For High Limit Race At Lakeside
Trackhouse Racing, Shane Stewart Team Up For High Limit Race At Lakeside
Trackhouse Racing has teamed up with Shane Stewart to promote the Heartland of America Showdown for the High Limit Sprint Car Series at Lakeside Speedway.
Dec 27, 2022
by Rob Blount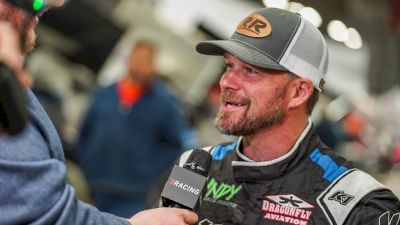 When the schedule was released for the inaugural High Limit Sprint Car Series season, all eyes immediately went to the $50,000-to-win race at the Lakeside Speedway in Kansas scheduled for April 11. Questions surrounding who was partnering with series owners Kyle Larson and Brad Sweet began to circulate, but now those questions have finally been answered.
The race will be known as "Shane Stewart's Heartland of America Showdown presented by Trackhouse Racing." Yes, that Trackhouse Racing. The event will mark the first time that the NASCAR Cup Series team owned by Justin Marks and Pitbull will foray into event promotion.
Partnering with my old dirt racing pals @shanestewartrcg and @KyleLarsonRacin on Trackhouse's first ever event promotion. Let's go! https://t.co/b1oduqRdxn

— Justin Marks (@JustinMarksTH) December 27, 2022
It should be no surprise to anyone that Larson found willing partners in Shane Stewart and Justin Marks. Larson and Marks were once co-owners of the Larson Marks Racing Sprint Car team with Stewart as their driver.
The race will pay $50,000 to the winner and will also be the first points race in High Limit Sprint Car Series history. The High Limit Sprint Car Series, a mid-week high-paying 410 Sprint Car series that is the brainchild of 2021 NASCAR Cup Series champion Kyle Larson and four-time World of Outlaws Sprint Car Series champion Brad Sweet, officially got off the ground with two exhibition races in 2022 at Lincoln Park Speedway and Wayne County Speedway, though the race at Wayne County was eventually rained out. The series will also run a non-points race at California's Thunderbowl Raceway on March 28 before all eyes turn towards the official season-opener at Lakeside Speedway on April 11.
Really excited to be partnering with @JustinMarksTH and @TeamTrackhouse on this event. Get your general seat tickets at https://t.co/qSh7xBA0WJ https://t.co/G6whrW0vMb

— Shane Stewart (@shanestewartrcg) December 27, 2022
The Heartland of America Showdown will be the first of two $50,000-to-win races on the 12-race schedule. Pennsylvania's Lernerville Speedway will also host a race paying $50,000 to the winner on September 26.
The inaugural High Limit Sprint Car Series schedule will also visit 34 Raceway, Kokomo Speedway, Wayne County Speedway, Tri-City Speedway, Eagle Raceway, Grandview Speedway, Bridgeport Motorsports Park and Lincoln Park Speedway in 2023.
Getting the band back together! 🙌 https://t.co/eHT46dGGHs

— Kyle Larson (@KyleLarsonRacin) December 27, 2022
Already there have been announcements for big-name drivers committing to run the inaugural season. Series co-owner Kyle Larson will be at every race, as will two-time Chili Bowl champion Rico Abreu and Buddy Kofoid.
Race fans can find more information on the High Limit Sprint Car Series, along with how to buy tickets to all 12 events on the series website at highlimitracing.com.
For those fans that cannot attend in person, every High Limit Sprint Car Series race in 2023 will broadcast live on FloRacing.