2023 Lucas Oil Late Model Dirt Series at Golden Isles Speedway
Jonathan Davenport Plans Lucas Oil Title Chase In 2023
Jonathan Davenport Plans Lucas Oil Title Chase In 2023
Jonathan Davenport announced that he will return to the Lucas Oil Late Model Dirt Series as a regular in 2023 with Double L Motorsports.
Dec 21, 2022
by FloRacing Staff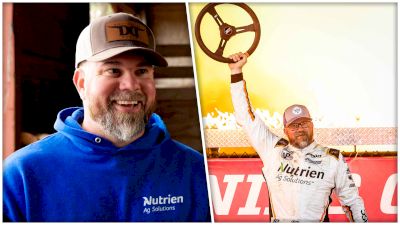 Hot off a historic $2 million season carved out racing an independent schedule, Jonathan Davenport of Blairsville, Ga., announced Wednesday that he will return to the Lucas Oil Late Model Dirt Series as a regular in 2023 with Double L Motorsports.
Already a three-time champion and winner of 65 career features on the Lucas Oil Series, the 39-year-old superstar and his Lance Landers-owned team decided to end a one-year hiatus from the national tour to pursue the circuit's record $200,000 championship prize in 2023. The series recently unveiled a first-ever $1 million points fund and a new-look championship chase that will see the top-four drivers in the standings battle for the title in Oct. 20-21's season-ending, $100,000-to-win Dirt Track World Championship at Eldora Speedway in Rossburg, Ohio.
"We are excited to announce today that we are returning to the Lucas Oil Late Model Dirt Series full-time in 2023," Davenport said in a press release. "It just didn't fit our best interest to follow that deal (in 2022), but I've always enjoyed racing with the (tour) and look forward to competing for another championship. We have some new crew guys and they would go racing every day of the week if it was possible, so they are really on board to chase a title.
"Also, the series really worked hard on some things like minimizing their schedule a little bit and boosting their points fund, which made it more attractive for us to jump back on tour. I think the years that I won the championship (2015, '18 and '19) it paid like $75,000 and that is what fifth place gets (in 2022), so kudos to everyone with Lucas Oil for allowing us all to race for more money."
With the departure of Double L crew chief Jason Durham — Davenport's head wrench for all five years of his stint with the Batesville, Ark.-based team — Cory Fostvedt will serve as Davenport's crew chief in 2023. Vinny Guliani will return as the team's engineer while Michael Bixby is taking over as the tire specialist.
Davenport, who won 24 features this season, plans to start his 2023 campaign in Jan. 7-15's Rio Grande Waste Systems Wild West Shootout at Vado (N.M.) Speedway Park before diving into the Lucas Oil Series schedule with the tour's season-opening weekend Jan. 26-28 at Golden Isles Speedway near Brunswick, Ga.