Amsoil Championship Snocross
Snocross Recap: A Fight in Fargo As Pro's Point The Way (Round 1)
Snocross Recap: A Fight in Fargo As Pro's Point The Way (Round 1)
AMSOIL Championship Snocross opened its 2022-23 season in Fargo, N.D. with some fun and games on Friday night. Things turned a bit more serious on Saturday.
Dec 20, 2022
by Haley Shanley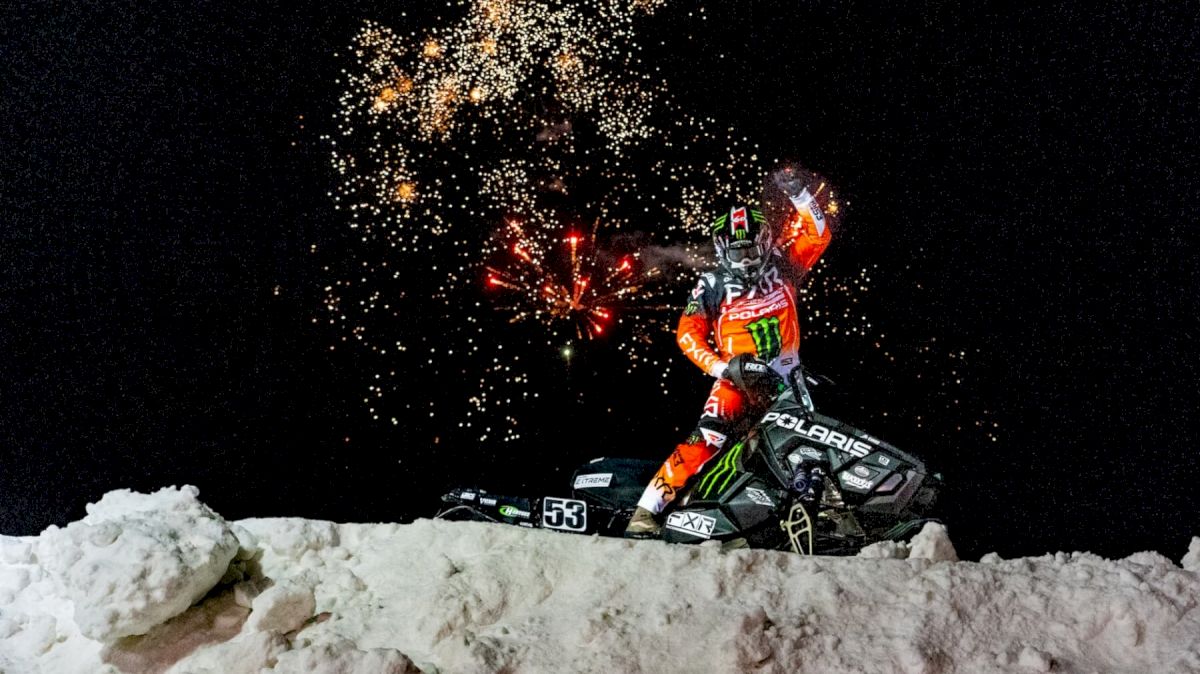 AMSOIL Championship Snocross opened its 2022-23 season in Fargo, N.D. with some fun and games on Friday night. Things turned a bit more serious on Saturday.
The All Finish Concrete Snocross National allowed the Pro and Pro Lite racers to get back into the groove of competition with the annual AMSOIL Dominator. But on Saturday, the pro's peered upon the larger prize: points and the start of the season-long championship chase.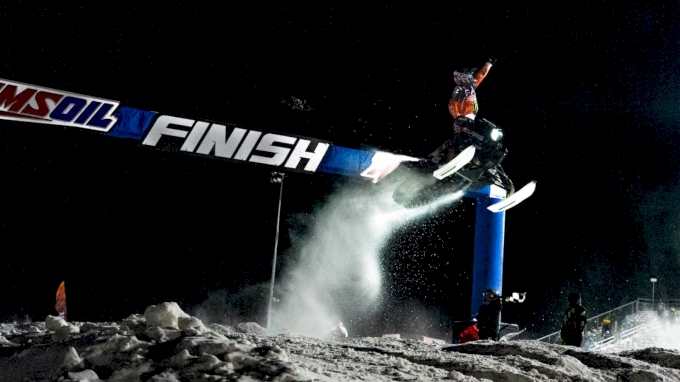 Kamm Commands Top Spot in Pro Final
The talent runs deep in the AMSOIL Pro class. With big name riders like Elias Ishoel, Hunter Patenaude, Daniel Benham and Francis Pelletier, it's easy to overlook someone. One of those that might be getting overlooked is the veteran Kody Kamm. After two days of racing, it might be time to start putting more focus on the former champion.
After winning Friday nights head-to-head Dominator and a $10,000 payday, Kamm was determined to repeat his winning ways. In the final, the Polaris rider nailed the start, picking up a convincing hole shot over Cole Cottew and Ishoel. Over the next ten plus minutes, it was a convincing, and confident ride for Kamm. He was in control, smooth and commanding, even with the four-time defending champion Ishoel breathing down his neck.
"It's been a great weekend so far and I'm so happy with Polaris this year," said Kamm. "They did a lot of work over the summer and got the sleds working great and I ripped the start. That makes racing a lot more fun, and easy, when you're out front. It was a pretty stressful race watching these two battle behind me and I didn't know when they were gonna start catching up to me."
Those two were the aforementioned Ishoel, and Judnick Motorsports driver Emil Harr. Ishoel had another historical charge, clicking up to three seconds a lap at times, but he couldn't find an opportunity to latch onto the race leader. Harr, also known for late race success, was able to close the gap on Ishoel, but ran out of time once the clock and laps came to an end to overtake the second place rider.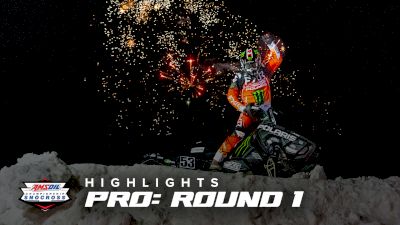 Lebel Opens Title Defense on the Attack
Riley Bester finished the 2022 campaign with his second win of the season. Early on during Saturday night's final, it looked like he was going to make it two in a row. The difference between the finale and the opener? Jordan Lebel.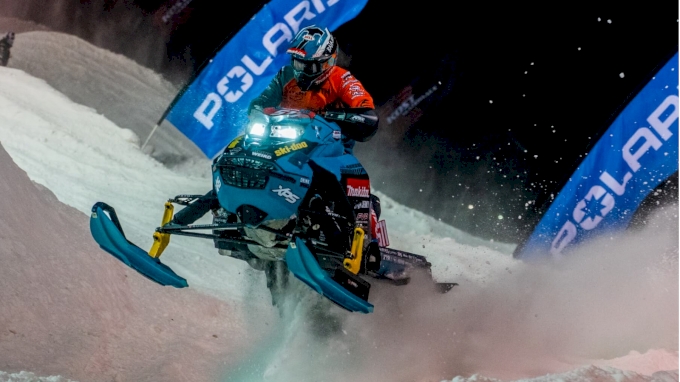 Bester hit his starts all day and used a bevy of triples to grab the early lead. But Bester had company by the end of the first lap. But the defending champion Lebel was patient after a fifth place start, and by the time the second lap began, he was roughly six sled lengths behind the race leader. Lebel would pressure Bester before making the pass stick at the five minute mark (Pro Lite races run eight minute moto's plus two laps).
It was Lebel's second opening round win in a row, as he looks to repeat last season's six straight wins to open the year.
"Back home at practice we worked a lot on short heat races and making passes and I think it paid off today," said Lebel.
Bester, who grabbed three Stud Boy Hole Shot's in 2022 pulled his third hole shot of the day in Fargo as he was untouched in second on Saturday. Evan Daudt made it two straight podium finishes dating back to last season's second place finish in the finale.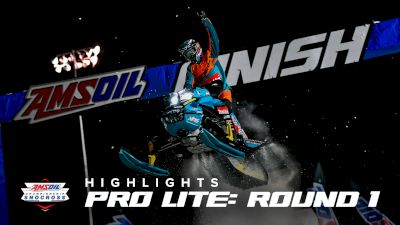 Cottew Nails Start, Weekend Sweep
Malene Cottew was looking for a strong start to her Pro AM Women's title defense, and she took care of business in Fargo with a weekend sweep.
One night after having to come-from-behind for the win, Cottew nailed the start and found clean air for the entire race, marking her fourth straight finals win.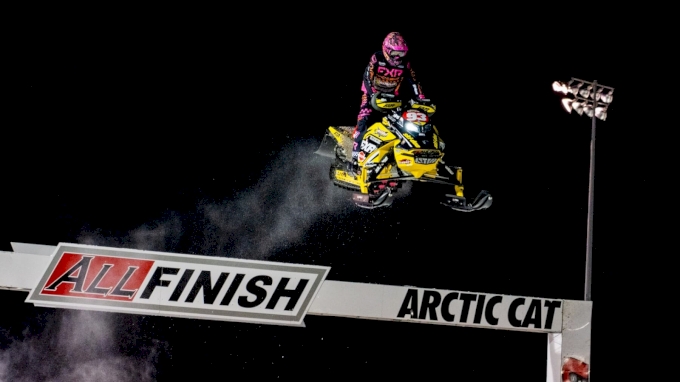 "I feel very blessed and it's just very awesome to have people that I can put all my trust in," said Cottew. "I'm so grateful that I have everyone to make me the best I can be out there, and they all want the best for me and that's what we got this weekend. "
Taven Woodie missed on the hole shot on Saturday night but threw everything into the ring trying to catch Cottew. Her quest came up short as Woodie settled for a second straight runner-up finish. Inanna Hauger worked her way through traffic to finish third for the second night in a row.


Lieders Continues Pro Plus 30 Streak
Andy Lieders just missed out on defending his title in 2022, but the former class champion went to work early this season by hammering home a dominant win in Fargo.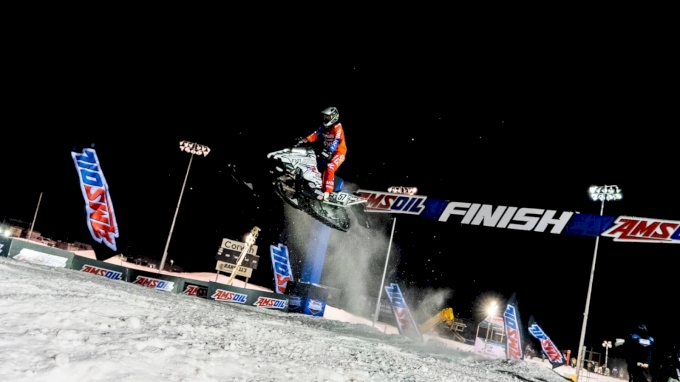 Lieders had some early adversity to overcome after he jumped the start and was pushed to the back row. But he was still able to grab the hole shot off of the restart, and that proved to be enough of an advantage as he didn't relinquish the lead as he cruised to his fourth straight win.
Kurt Bauerly pulled into second off the start and looked to equal Lieders lap times. Bauerly found his groove and took control of the runner-up spot on Saturday night. Adam Johnson finished third.
SATURDAY SHOWDOWN
SPORT: It took Crayden Dillon 11 rounds to pick up his first Sport win of the season last year, but he expedited the process this season. Dillon found the front of the pack on lap three and powered to eight second win.
Emil Mikalsen was competitive in his 2022-23 season debut, running second for much of the race on his way to his first career Sport podium. Drew Freeland started fifth but worked his way into the final podium position on lap four.
SPORT LITE: Brandon Nelson ended the 2022 season with his firsts Sport Lite win, and he picked up where he left off in the new season. Nelson went wire-to-wire for the second straight victory.
Trenton Hilmerson made the jump to Sport Lite a success on Saturday. Hilmerson started fifth and found his way into the runner-up position on lap two and held off Brady Freeland for second. Freeland was a winner on Friday night in Jr. 14-15.
120 CHAMP: Ryan Shimanski picked up the early lead and cruised to the 120 Champ win on Saturday night. The victory was Shimanski's second of the day after he won the Stock 200 final earlier in the day.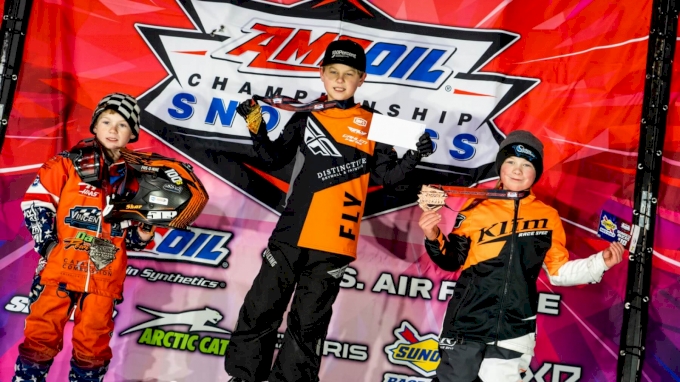 Lincoln Skar locked down the second position and George Boettger made a last lap pass stick for the third and final podium spot.
TRANSITION 9-13: Jimmy Stanisich flipped the script on Saturday night in Transition 9-13. Stanisich finished third on Friday night, with AJ Skogquist taking the win. On Saturday, Stanisich took the win after grabbing the hole shot.
Skogquist couldn't replicate his opening night win, but was able to finish third, just behind Tavin Knudson.
JR. 10-13: Jimmy Stanisich was a double winner in Fargo on Saturday. Stanisich went wire-to-wire for his second win of the day. Carter Meyeraan hit his marks on his way to second and AJ Skogquist finished third.
JR. GIRLS 9-13: Avery Hemmer returned to action after a shortened 2022 season by finding the top of the box in Junior Girls 9-13. Hemmer grabbed the lead at the start and was able to hold off defending class champion Kendall Rose for the win. Rose was able to get around Victoria Dillon on the last lap to finish second.
Rox Speed FX STOCK 200: Ryan Shimanksi started his Stock 200 (Saturday) title defense with a win on Saturday night. Shimanski set the quickest lap after taking over the lead off the start. Jack Gelinas hit his marks, moving from fourth to second, finishing one spot ahead of George Boettger.
TRANSITION 8-10: (Saturday) Tripp Knudson followed up his third place finish on Friday night with a narrow victory over Noah Gillis on Saturday. Knudson put in a last lap charge to catch Gillis at the finish line and nosing out a .001-second win.
JR. 14-15: Dylan Lebel put on a show in the Junior 14-15 final on Saturday. Lebel, who finished third on Friday night, grabbed a fistful of throttle off the start as he went wire-to-wire for the win.
Isaac Peterson finished second behind Lebel, marking his seventh straight Saturday night podium, dating back to last year. Kamden Duffy made a steady move through the field, finishing third after starting sixth.