2022 Castrol Gateway Dirt Nationals
Wil Herrington Holding Head High After Near-Miss At Dome
Wil Herrington Holding Head High After Near-Miss At Dome
Wil Herrington led 23 laps of Saturday's Castrol Gateway Dirt Nationals late model feature before a late restart and mechanical issues ended his bid to win.
Dec 5, 2022
by Kevin Kovac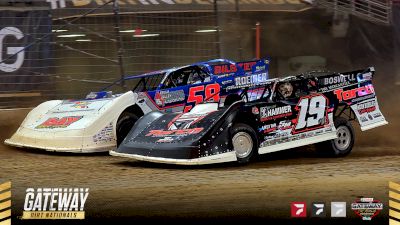 Wil Herrington didn't look like a driver who had come oh-so-close to the biggest victory of his Dirt Late Model career. He was his typically happy-go-lucky self, grinning and chatting up visitors to his JCM Motorsports team's pit stall after Saturday night's Castrol Gateway Dirt Nationals finale at The Dome at America's Center.
Shouldn't the 26-year-old from Hawkinsville, Ga., have been wearing a perpetual frown? Shouldn't he have been dejected to the point of being inconsolable? Shouldn't he have been hiding from the crowd to wallow in his misery?
You would think so. You would think Herrington's demeanor would have been so downtrodden over a crushing, late-race loss in the 40-lap feature that talking about it would be akin to reliving a nightmare.
But that's not Herrington, an up-and-coming Southerner who doesn't dwell on the negative.
"I mean, I've been heartbroken a lot in racing," he said, standing in his trailer following a sudden fall from grace in which he went from leading laps 11-33 — at times by a healthy margin — to watching the final five circuits of the race from the infield of the temporary fifth-mile oval. "Definitely not on this (high-profile) stage, but I just smile about it.
"It did suck, but I'm just looking at the positive. The race car's been good really all weekend, and for never being here, we did good."
A Late Model competitor since 2010 who on Saturday completed his first full season in the Super Late Model division, Herrington appeared headed to an upset triumph worth $30,000 — nearly three times the amount of his career-high payoff of $12,000 for a June 18 Comp Cams Super Dirt Series-sanctioned victory at Magnolia Motor Speedway in Columbus, Miss. — when he seized control of the feature during a long green-flag stretch from lap five to 33. He shot forward from the third starting spot to grab the lead on lap 11 from race-long pacesetter Cody Bauer of Farwell, Mich., who won Friday's 25-lap preliminary feature over Herrington, and as the lap-30 mark was reached he had nearly a full straightaway advantage over his closest pursuer.
Everything was going swimmingly for Herrington, who had only watched the Dome's racing from afar before taking his first laps around the bullring Friday.
"The first part or the race I really just wanted to ride and see what I had," said Herrington, who overtook Tanner English of Benton, Ky., for second on lap four and settled into a chase of Bauer. "But I knew the top (groove), after it kind of come in there, I just wanted to get up there and maybe I could get by (Bauer).
"I was a little better than Bauer but I was just trying to take my time with him and not wreck us both. Finally he left me enough of a lane where I could get up beside him and he knew I was there. That's the big thing here — a lot of people get mad because they get stuffed in the fence, but you gotta be beside somebody here to make sure they see you."
Once in the lead, Herrington found that staying on the gas of his XR1 Rocket car was his best option for negotiating a racetrack that had become decidedly rough.
"I really wasn't looking at the (video) board (to gauge his edge) as much as I was looking at the lap counter," Herrington said. "I could see my (signaling crew) guy getting into (turn) one there and he was telling me I had a good lead. I slowed down at one point just trying to take care of the race car and I didn't feel good so I kind of picked my pace up."
Herrington was running on a ragged edge — really, everyone was considering the conditions — and he flirted with the outside wall several times, especially rounding turns three and four. He didn't wilt, however, maintaining enough speed to put the event's St. Louis Arch replica trophy in his sights.
Then came the turning point of the race: a lap-33 caution flag for debris on the track. Herrington's cushion was wiped out, putting first-time Gateway Dirt Nationals Late Model starter Tyler Erb of New Waverly, Texas, and perennial Dome contender Tanner English of Benton, Ky., behind him for the Delaware double-file restart.
Herrington wouldn't lead another lap. Erb dove underneath him entering turn one, pulled ahead of Herrington and English on the backstretch and assumed command as lap 34 was scored. When the race's final caution flag flew on lap 35, Herrington limped into the infield with race-ending problems while Erb went on to emerge victorious over English.
It was a cruel twist of fate for Herrington, who shook his head in frustration as he recounted his downfall from prospective winner to ninth-place finisher.
"I felt like I got a decent start (on lap 33)," Herrington said. "I probably should've done a little different what I did in three and four when I took off, but I felt like I got a pretty good start down the frontstretch. I knew Tyler was gonna be sliding me, but I told myself to just make I got into (turn) one and I would be fine.
"I guess I caught a hole just a little wrong going into one. When I got turned, I don't think I got turned enough, and my right-front got in the wall right in the middle (of the corners). I got hung up in the powdery stuff and I got so tight I couldn't just wheelspin out of it like I needed to and I let (Erb) by.
"I think it was the next lap, I was still out there (on the outside) and Tanner kind of squeezed me off of two and I got in that wall where it opens up (at the exit to the pits)," he continued. "The right-rear hit the opening there and it bent the J-bar and broke the driveshaft" while also damaging the right-rear bodywork.
Herrington climbed out of his car after stopping in the infield and shrugged his shoulders in a manner that asked, "What can you do?" He received consoling handshakes and hugs from several people, including fellow competitor Gordy Gundaker of St. Charles, Mo., who had also retired early from the feature.
The "good job" pats on the back continued when Herrington returned to the pit area.
"(Crew chief) Brian (Green), he hugged me," Herrington said. "And my dad (Glenn), he walked up to me and hugged me and said, 'If the caution don't come out, it's over.' And then he, I won't say scolded me, but he kind of said, 'You should've done this on the restart and we would've never been in that situation.' He's always a pretty good driving coach about what I do wrong, and I know what he was trying to tell me.
"I just have to learn from my mistake and what I did on the restart, just try not to do it next time."
Herrington could chalk up his near-miss as another step in his climb as a Dirt Late Model competitor. He's excelled for much of the past decade in the Crate Late Model division but this year has made strides in the Super Late Model ranks, making 42 starts (versus a modest 14 Crate appearances) and recording three victories among his 10 top-five and 21 top-10 finishes. All three of his triumphs — a sweep of the June 17-18 Comp Cams doubleheader at Magnolia and Sept. 18's Southern All Star Series event at East Alabama Motor Speedway in Phenix City — came in his family-owned Rocket No. 14, but most of his 2022 starts came in the Colten Miller-owned No. 19M Rocket he drove at the Dome.
Going full-time racing isn't an immediate goal for Herrington, but his future prospects have become brighter since March when he replaced Jason Hiett of Oxford, Ala., behind the wheel of the JCM Motorsports equipment fielded by Birmingham, Ala.'s Miller. The JCM team offers Herrington more resources than his own modestly-funded effort and a chance to race more widely.
"We're trying to come onto the scene on the big stage here," said Herrington, who maintains Miller's machinery at his shop and currently makes his living working at Robins Air Force Base in Warner-Robins, Ga. (Wil depaints C-17 and C-5 planes while his father also works there painting the same flying vehicles). "It's an awesome opportunity for me. We're a real small-budget team. I don't get to go to the bigger races like this. I have to pick-and-choose so I don't wear my motors out.
"We pick up our new car in two weeks from Rocket and we have two Durham motors to be refreshed. We're gonna hit the Lucas (Oil Late Model Dirt Series) stuff at (Georgia-Florida) Speedweeks (in January and February) and then probably pick-and-choose. In the South you can pick plenty of races for some good money, and we'll go to some bigger shows like Eldora (Speedway's Dream and World 100) and Fairbury (the Illinois track's Prairie Dirt Classic). We just want to keep growing and trying to get better."
Another bid for victory at the Dome in 2023 will certainly be on Herrington's agenda as well. He now has some unfinished business in St. Louis.
"I was really just trying to stay focused and not even think about winning the race— just keep doing what I was doing, and not do what I did," Herrington said. "I just gotta do a little better on the wheel. I feel like I done my job until then. I done maybe 85 percent of my job.
"I look at things a lot of times, if it's meant to be, it's meant to be, and the good Lord thought it wasn't my night yet," he added. "We'll go back home, go back to work, and just keep digging. We'll just have to come back next year and try again."