2022 Castrol Gateway Dirt Nationals
Mourning Tyler Erb Captures Emotional Gateway Dirt Nationals Win
Mourning Tyler Erb Captures Emotional Gateway Dirt Nationals Win
Four days after losing his father to a heart attack, Tyler Erb scored an emotional win Saturday night at the Castrol Gateway Dirt Nationals.
Dec 4, 2022
by FloRacing Staff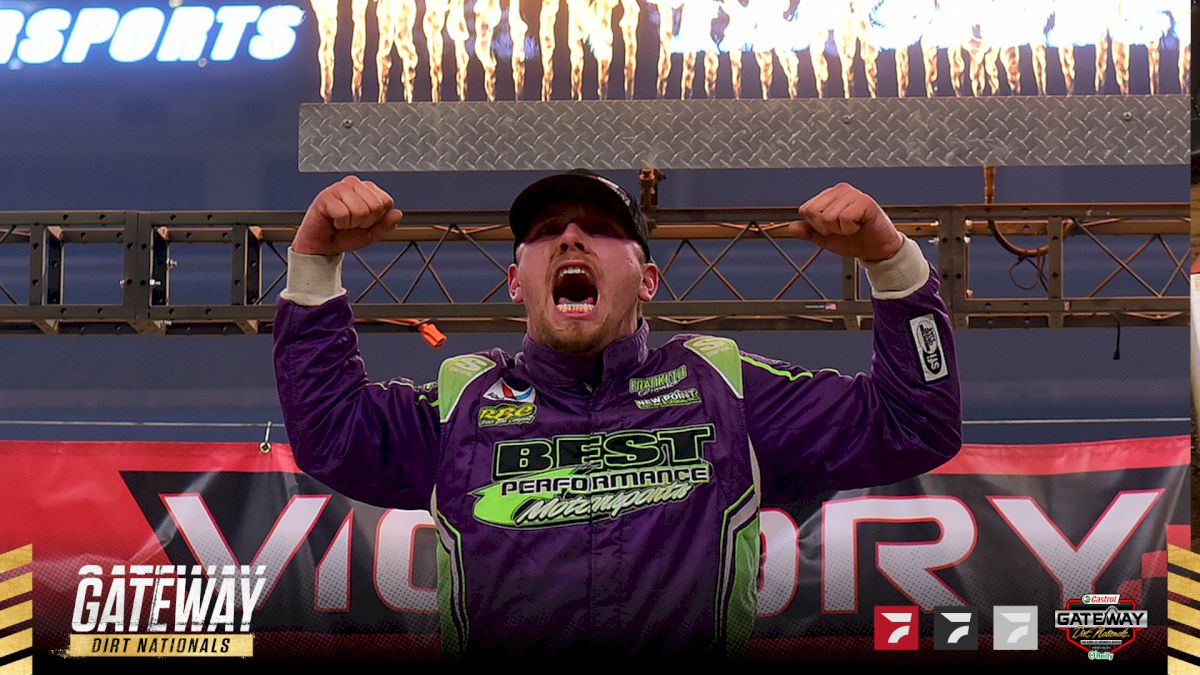 ST. LOUIS, Mo.— The mental fortitude needed to run 40 laps around the fifth-mile temporary dirt oval inside the Dome at America's Center, home of the annual Gateway Dirt Nationals, is immense. Putting one's self in position to win the highly sought after trophy featuring a replica of St. Louis's signature Gateway Arch, along with the $30,000 winner's prize takes poise and a bit of luck.
The mental toughness needed to accomplish the task despite being surrounded by anguish and turmoil is immeasurable. Somehow, Tyler Erb fought through it all and got the job done. Just four days after losing his father Mark Erb to a heart attack, Tyler Erb showed the grit and toughness many wonder if they possess and most hope they never have to display.
Yet there it was Saturday night in St. Louis, on full display under the bright lights of one of the sport's biggest stages. And there, Erb, the sometimes brash but always entertaining 25-year-old star from New Waverly, Texas, simply would not be denied. Erb showed his strength all week, though most did not know it (he did not tell anyone of his father's passing until he was interviewed in victory lane Saturday night) and he got the little bit of good fortune he needed in the form of a late caution.
It was the break he needed. On the lap-33 restart, Erb powered ahead of leader Wil Herrington of Hawkinsville, Ga., and led the final seven circuits, finishing 2.209 seconds ahead of second-starting Tanner English of Benton, Ky. Ricky Thornton Jr. of Chandler, Ariz., finished third after starting 13th in the 20-car field and two-time event winner Tyler Carpenter of Parkersburg, W.Va., finished fourth in his attempt to become the first three-time Gateway Dirt Nationals winner.
Mike Spatola of Manhattan, Ill., improved three spots to round out the top five, while polesitter Cody Bauer of Farwell, Mich., finished seventh after leading the first 10 laps in a feature where only eight cars were still on track at the finish.
"This is awesome, you have no idea what this means to me and my family," said Erb in victory lane. "Racing is so not important if you experience things in life. I really just want to dedicate this win to someone really special and close to me and my family and it's just awesome. I can't think my car owners Eric and Kelly (Brock) enough, my best buddy Steven Roberts, (crew chief) Randall (Edwards) and Corey, who have been with me forever. Every single sponsor on this car, every single person who helps me, it really means a lot and I'm just grateful to be here."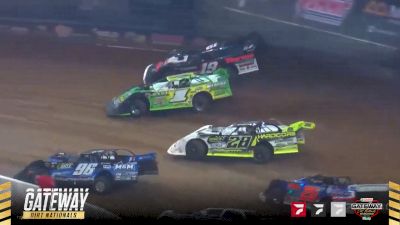 VIDEO: Watch highlights from Saturday's Gateway Dirt Nationals late model feature on FloRacing.
Erb fielded another question before breaking the news of the death of his 52-year-old father.
"All of our family and everybody close to us is watching this, so it would just be easier for me to say it once and be done," said Erb, his voice beginning to crack. "But my dad, who is my best friend in the whole world, we got to St Louis and he had a heart attack Wednesday and died. And I'm sorry to my friends and everybody this week. I haven't said anything because it's just tough you know. I apologize to all my friends and everybody, but I've just been dealing with a lot trying to keep to myself.
"We just decided … I just decided it would be better to stay here and support my mom. I love her with all my heart and I always will. Don't think this is a sob story. Man, this is the worst news I could ever have thought of in my whole life, but I just put in the back of my mind and raced and got it done. So I guess he was definitely helping us this week. You know, we'll just have to take life every day from here on out."
The raw emotion was not lost on the crowd inside the Dome at America's Center, which roared with approving support for the young star. Without the late caution, however, Erb likely wouldn't have been hoisting the unique Gateway trophy or ready to cash a $30,000 check that ties the career high payday he earned last season when he won the Al Belt Custom Homes I-80 Nationals in Greenwood, Neb.
"Had to earn it for sure," said Erb. "(I went) around the top as hard as I could and once I got behind Wil, when I got the second, I just tried to save my stuff because them holes were gnarly. I got beat picking the bottom last night (on the restart) so I picked the top. You know, Wil just did what he was doing trying to protect the bottom and I got a really good run and crossed him. Really I got to thank him for that. He was doing me that way in the heat race and I (went back and) watched all the videos."
After leading laps 11-33, Harrington, the Crate Late Model star who broke onto the scene this season when he won his first career Super Late Model event with a sweep of the Comp Cams Super Dirt Series Clash at the Mag at Magnolia Motor Speedway in Columbus, Miss., slipped to ninth after suffering suspension damage and breaking a j-bar and driveshaft. Herrington held a 1.8-second lead over Erb on lap 32 and seemed headed for a career-best win until the caution came out.
"I just got into (turn) one and got into the fence," said Herrington. "The right front got to the fence and it was pretty much over after that. I don't know if I had a good enough start where Tyler wasn't going to slide me, but when the right front got to the fence, I was pretty much a sitting duck. I got squeezed a little bit off of (turn) two and just the right rear got into the fence and broke the J-bar and driveshaft and it was pretty much over after that."
With Herrington out of the picture in the waning laps, Erb had to hold off English, who settled for second for the second year in a row after failing in his bid to overtake Erb on a final lap-35 restart.
"Congratulations to Tyler. He got up on the wheel and made it happen," said English. "That just wasn't my type of racetrack. I tried to hang in there for a while. I tried to run where the holes weren't, but I just set up too tight for that cushion … about knocked the wall down four or five times."
While the track — noticeably choppier than the first two nights — wasn't necessarily to English's liking, third-finishing Thornton said he had no complaints. He only wished he had started closer to the front.
"I kind of ran around the bottom, ran across the middle," said Thornton, who improved 10 positions. "I hit the fence, I hit the infield wall, hit other competitors. I was doing whatever I could to try to get to the front . Congrats to (Erb) on his win, that's pretty cool, especially being his first time here in a Late Model. Congrats to Tanner too. I feel like that's like the 15th time that Tanner has ran second, so maybe he'll get one spot better. Wish I had done a little better earlier and set myself up a little further forward, but overall pretty good weekend."