2022 Castrol Gateway Dirt Nationals
Carpenter-O'Neal Clash Enlivens Action At The Dome
Carpenter-O'Neal Clash Enlivens Action At The Dome
A clash between Tyler Carpenter and Hudson O'Neal made the crowd go crazy Friday night during the Castrol Gateway Dirt Nationals.
Dec 3, 2022
by Kevin Kovac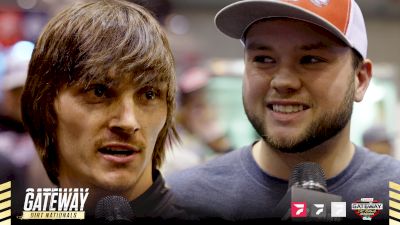 ST. LOUIS, Mo. (Dec. 2) — The Dome at America's Center went crazy during Friday's Castrol Gateway Dirt Nationals preliminary program. And who was in the middle of all the madness that had the big crowd buzzing? Tyler Carpenter, of course.
This wasn't quite the Tyler Carpenter Show the Dome faithful have become accustomed to, though. The unique Cinderella story the 31-year-old driver from Parkersburg, W.Va., has spun in the last two indoor events — winning a prelim and the big-money finale in both 2019 and '21 while displaying a take-no-prisoners style, unfiltered comments and unabashed emotion — morphed into an evening that saw him become a lightning rod for controversy without the feel-good victory lane celebration to take the edge off.
A heat-race tussle with Hudson O'Neal. A frenetic rally to transfer through a B-main. An eventful, sometimes physical advance from deep in the field to finish fifth in the 25-lap preliminary feature.
For Carpenter, there was never a dull moment as he began his bid for an unprecedented third consecutive Gateway Dirt Nationals triumph at the high-profile venue where his personality and success have combined to make him a cult hero.
"I felt like I had a target on my back the whole time I've been here," Carpenter said at the conclusion of his wild outing. "It ain't nothing against me, but people want to beat me. They want to be the one who takes me off my pedestal."
Carpenter's Friday certainly began well when he registered a group fast time in qualifying to earn the pole position for the fourth of six eight-lap heats. But after two aborted starts in that heat, the trajectory of his night — and the atmosphere in the Dome's stands and pit area — took a dramatic turn.
On the heat's third green-flag attempt, O'Neal, the 22-year-old standout from Martinsville, Ind., running his final weekend with Double Motorsports and team owner Roger Sellers before moving to the Rocket Chassis house car team, launched off his outside pole starting spot. He sailed around the top of turns one and two and appeared to have a strong run on Carpenter off the second corner.
As Carpenter drifted up the track, however, O'Neal ran out of racing room. His car nosed into the Jersey barriers and catch fence at the track exit — with enough force to move the concrete — was thrown back onto the backstretch and had its rear end lifted off the ground by hard contact from Kyle Lear, who in turn collected Jon Lee's car.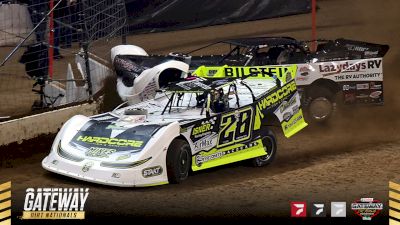 VIDEO: A look at the incident and retaliation between Tyler Carpenter and Hudson O'Neal.
Carpenter sped away from the encounter unscathed, but he didn't escape an irate O'Neal. Despite heavy damage to the front and rear of his XR1 Rocket machine, O'Neal limped away from the scene with the caution lights on, tracked down Carpenter and blasted the left-rear corner of the Mountaineer State driver's Kryptonite car just past the flagstand, spinning Carpenter and flattening his left-rear tire.
O'Neal's retaliation sent the crowd into a frenzy — and, moments later, resulted in a heated scene in the adjoining convention-center pit area. After O'Neal parked his pummeled No. 71 at his trailer, members of Carpenter's team appeared — along with a ever-growing throng of very interested observers eager to witness what might transpire next — and began trading verbal barbs with O'Neal's crew and supporters. More than a dozen members of Dome security and uniformed police officers established a human barrier between the two factions, however, and eventually diffused the situation without any physical altercations.
The two drivers never exchanged words — Carpenter didn't venture to O'Neal's pit stall after returning to his trailer about 200 feet away with his race-ending flat tire and O'Neal remained at his base — but they gave media interviews to offer their opinions on the incident and its aftermath.
O'Neal, speaking calmly after changing into street clothes, struggled to understand why Carpenter did not maintain his line around the inside of the fifth-mile oval.
"I got a good run (on Carpenter off turn two)," O'Neal said. "You just gotta learn, man, you just can't run over everybody. It's simple. Yeah, you can come here and run over people and get away with it sometimes, but he literally put me out the opening (in the outside wall).
"We rubbed a little bit down the back straightaway before the green. We were fighting for the same position. We were turned into each other, but it wasn't like we were killing each other. We were just, like, fighting for the same ground. That's fine, man. But then we run off into one and two, and he's run the bottom for the last two restarts, and I get a run on him and he literally puts me out the opening. I don't know what to say.
"He's got a helluva race car. He don't have to drive like that. He race car is so good here. If he'd have just stayed on that bottom, yeah, I might have got him, but as good as his race car is, he might have drove back by me.
"It's just dumb, man," he added. "You know, he had a chance to win this thing. His car is good. I felt like my car was good too. Now there's two race cars and neither of them got a chance to win this thing. There's just no point. You just can't do that."
Carpenter disputed O'Neal's insinuation that he was at fault.
"It was just a s----- deal," Carpenter said. "If we would've got a good, clean start (like previous attempts), I had the lead, he had second, and I feel like that was how we were gonna finish. But every restart we both got hungrier.
"Everybody, especially if you're starting on the pole, you're gonna charge the bottom (through turns one and two) and let it wash out a little bit. Maybe Hudson ain't run here enough to see.
"Honest to God, I didn't feel him at all (off turn two). It's one of those deals where I felt like I restarted the same almost every time. That last start we was a little more neck-to-neck and maybe it was too close … I just feel like there's not enough room out there for him to try to squeeze it in knowing the inside car's coming out.
"It sucks for everybody, not just me and Hudson," he continued. "There were several other cars that got caught up in that deal and I hate it. If some people think I smashed into him, at the end of the day I feel like I did the same thing every time (on the starts) and maybe he just tried to squeeze it in there where it wasn't supposed to be."
O'Neal's strike back at Carpenter was surprising from a driver who admitted he's known for being "kind of straight and clean-cut" and avoid retaliation. He's certainly not as fiery as his father Don — a noted hard-nosed driver during his racing days who was at the Dome on Friday but didn't have a pit pass so he wasn't on the scene during the post-heat activity — but the younger O'Neal couldn't restrain himself from showing his displeasure with Carpenter.
"I was just so upset," O'Neal said. "I understand you don't need to run into anybody after the race, but maybe once they watch the race (replay) they'll think, Hey, maybe we shouldn't have done that. That's what I think anyway."
O'Neal didn't second-guess his retaliatory hit even though it earned him a disqualification from further Friday action from event promoter Cody Sommer. (Largely a moot point anyway because he said the damage to his car's front clip was serious enough that it's "probably junk" so he was scratching from further competition.)
"No, there was no regret, but I figured them Carpenters were gonna beat me to my pit area. There's a lot of them," O'Neal said. "This was maybe the wrong place to do that."
He paused, and then continued: "That was for Ricky Thornton last year getting (wrecked) here by him (Thornton had a similar run-in with Carpenter in the 2021 Gateway Dirt Nationals). You just can't run over everybody. At the level we race at … he don't necessarily race at our level every week, but he does come to some events, and you gotta race people with respect. If not, that's gonna happen all the time.
"At the end of the day, I know that they do it at a little more of a lower budget. That's good. We need people like that. But Roger Sellers (O'Neal's Double Down owner for the past two years), he cares (about a damaged car), but if (Carpenter) puts me into the fence like that and I retaliate (under caution), Roger, he's like, 'I would've done the same thing.' (Carpenter) gotta realize that and not do it.
"These car owners at this level, they're just gonna buy more cars. (Carpenter) gotta be careful a little bit. And if you race people bad, and they end up junking your stuff just like he did mine, and it's the other way around, well, then they take a hit.
"Maybe when we look back at this in five years, maybe he'll look at it as a good thing and I'll look at it as a good thing, you know what I mean? He's got talent. He does a good job. He just has to race with a little more respect. Maybe they'll learn one day that you just can't run over everybody to win these races and somebody's eventually gonna fight back and I just happened to be the one."
O'Neal acknowledged that his abbreviated Dome appearance — his first Gateway Dirt Nationals entry since 2017 when he won a preliminary feature and finished 17th in the finale — was one heck of a way to end his successful stint driving for Double Down.
"We'll never forget it," he said. "I hate it for Roger Sellers. But he gave me a pat on the back and said he liked it."
What's more, despite Carpenter's popularity at the Dome, not everyone was in his corner with this showdown. That was clear when, after O'Neal completed an interview, several fans who had been patiently waiting for him to finish talking approached him to shake his hand and thank him for his actions toward Carpenter. One even told O'Neal, "You're my hero for doing that."
Carpenter, meanwhile, conceded that he "expected (O'Neal) to hit me after (the accident) because I seen the replay (on the video board) and his car got killed." Nevertheless, he wasn't pleased with O'Neal "using his car as a weapon."
"I get he's disgusted. I'm disgusted," Carpenter said. "It sucks that he got taken out, but it ain't over. We'll meet again. We won't do anything here, but … Yes, I slid him a little bit maybe, but it's the same deal every time here: If you don't come here with your boxing gloves on, you don't even need to show up."
In a way, though, the showman in Carpenter relished the attention-grabbing nature of the incident, noting how it turned fans on because "people don't want to just see the same old stuff every time."
Not surprisingly, Carpenter threw a verbal jab at O'Neal.
"They consider him Hudson O'Neal, the Real Deal, and I'm gonna show him, I'm the new Real Deal," Carpenter said (though he actually confused Hudson's New Deal nickname with his father's).
In that vein, Carpenter rolled onto the track for Friday's second B-main with the words "The New Deal" written on the back of his spoiler. He proceeded to grab the third and final transfer spot despite being forced to the rear of the field by his involvement in a chain-reaction jamup in turn four and surviving a late scrape that resulted in Lear spinning between turns three and four.
"I just knew my night was over, but if there's a will, there's a way, and I'm not gonna give up," Carpenter said of his consolation run. "Some things just played in my favor, and the next thing I know I'm right there and I ended up third."
Carpenter spent the 25-lap preliminary feature scraping and clawing his way forward from the 18th starting spot. He ended the race in fifth place with his car's body thoroughly battered, but he again was involved in some roughhousing — specifically late-race paint-trading with eventual third-place finisher Tyler Erb of New Waverly, Texas — that produced more noise from the crowd.
"To be dead honest, I know I was closing the door on (Erb), but the door was closing on me, too," Carpenter said. "You just don't know what to do in a predicament like that. I didn't want to wipe him out, but at the same time, he's not gonna give me an inch. I experienced that a few laps later when he drove clear through me, but I had it coming, I drove through him.
"Like I said, I expect it, I know what's going on. I've been here enough, I've experienced what needs to be done. I try to run these guys clean, but the time you give them an inch, they're gonna take a foot. That's the way you gotta be here."
Carpenter remarked that his Friday's struggles represented "a minor setback for a major comeback" in Saturday's finale topped by a 40-lap, $30,000-to-win championship headliner (he'll start from the pole in the fourth of six qualifying races), but he ended the night secure in the knowledge that he had helped provide attendees a memorable show.
"The way I see it, I feel like this event needed that," Carpenter said, noting that Thursday's action wasn't quite as entertaining or electric as Friday's. "Obviously I hate it for me and my crew, but the fans, whether they love me or hate me, and same with Hudson, love him or hate him, that's what this is all about. It's about creating hype. The internet's blowed up.
"I'm disgusted," he added, "but in the same sense, we're still the talk of the Dome so they still gotta see my face."