2022 Castrol Gateway Dirt Nationals
After Starting Strong, Ryan Unzicker Seeks Dome Celebration
After Starting Strong, Ryan Unzicker Seeks Dome Celebration
After locking himself into the main event with a runner-up finish on Thursday, Ryan Unzicker is seeking a Castrol Gateway Dirt Nationals victory Saturday.
Dec 2, 2022
by Robert Holman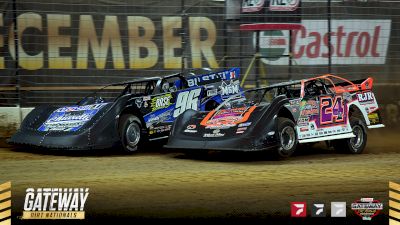 ST. LOUIS, Mo. — Ryan Unzicker has attended the Castrol Gateway Dirt Nationals each year since its inception in 2016. The El Paso, Ill., driver has been in the starting lineup in four of the previous five event finales, missing only the 2017 feature after falling two spots short in his consolation race.
That, however, is hardly Unzicker's most disappointing outing during the annual event held on the temporary fifth-mile dirt surface inside the Dome at America's Center in downtown St. Louis.
It was 2019 that Unzicker had perhaps his best chance to win what has quickly become one of the Midwest's most prized events but instead left the Dome with a crumpled race car. Credited with a 10th-place finish in the $30,000-to-win finale just four days before Christmas, with his pride hurting, Unzicker at the time said, "I'm not going to be able to sleep tonight."
And rightly so. The third-starting Unzicker charged to the front and snagged the lead from West Virginian Tyler Carpenter late in the feature. He paced laps 30-31 but his night came to an abrupt end when he caught a rut in turn one and flipped his car.
Carpenter went on to claim the first of his two Gateway Dirt Nationals victories while Unzicker was left wondering what could have been. It's a night Unzicker recalls all too well.
"We really had a good week. That was (2019) and it started off about like this," said Unzicker after finishing second to Bobby Pierce of Oakwood, Ill., in Thursday's 25-lap preliminary feature. "We won the heat race (on prelim night in 2019) and was leading all the feature. We lost it with like two (laps) to go; I was in lapped traffic and Tyler (Carpenter) ended up getting me. I was being too conservative. You know, that pissed me off and it put a fire under my ass.
"So I come into Saturday, that night, and I'm like 110 percent every freaking lap. I ain't giving up nothing to nobody. And that kinda bit me in the ass too because I was giving it 110 percent. I ran down Tyler for the lead and I passed him. We threw some sliders and a … just a little too aggressive, and hit one of those holes. Just hit it wrong and ended up flipping over with like nine (laps) to go."
Unzicker has won a dozen races since that chilly December night. He's the current MARS Racing Series champion. He's even slept since then. But that doesn't lessen the bitterness he's felt since that near miss. After the Gateway Dirt Nationals was cancelled in 2020 because of Covid-19 restrictions, Unzicker returned to St. Louis last season but managed just a seventh-place finish despite gaining 14 positions after taking a provisional to start the finale.
His runner-up finish Thursday behind two-time Gateway Dirt Nationals winner Pierce has the lanky, likable Illinoisan feeling good about his prospects come Saturday. For starters, Unzicker, along with Pierce and Thursday's third-finishing Tanner English of Benton, Ky., are locked into the starting lineup for the $30,000-to-win main event. They'll join Friday's top three finishers in a redraw to determine the starting lineup for the first three rows of Saturday's feature. And with his car relatively unscathed, Unzicker can rest easy Friday and simply focus on the finale.
"It's pretty important really, just to not have the car tore up. It's all in one piece, a little spoiler damage you know," said Unzicker, moments after recording the video that will be used during his driver introduction Saturday. "We'll have to do some tire work. The track was really abrasive tonight. We're not used to that here. We had our tires all cut up and blocked up to get maximum traction you know. It just chewed the s--- out of 'em. So basically we got three junk tires. Well, really four because we chewed one up in the heat race too. We'll back off that for (Saturday) more than likely, but to be locked in (to the main event), that's what you gotta do."
Unzicker realizes just how important it is not having to run a heat race on Saturday.
"It is absolutely because you can't change a (flat) tire or nothing here," Unzicker said. "Once you're done, you're done. You could get into a (crash) with lapped traffic leading this thing.You could lap everybody but the second-place car and your night's done 'cause you're just trying to pass a lapper or something. It's just really tight racing. Like Tanner (English) on that restart was on the outside of me, and gosh dang it took three or five laps or something to get him shook free of the outside of me. Then I felt a lot better being able to drift out, come back in, back out and come back in. But yeah, you never know what's gonna happen here.
"Anything can happen. You can be the best damn race car in the country, all weekend here, and anything came happen," he continued. "But normally, the characteristics of the racetrack promotes a lot of beating and banging and elbows up and boxing gloves on … (which) promotes a lot of cautions. But tonight it didn't. I don't even know what time it is, but it's early. … 8:30 (p.m.), yeah. Who'd imagine that (the) first night, Gateway Dirt Nationals, is done at 8:30? Usually it's midnight or 1 in the morning. So hat's off to everybody there. The track wasn't a normal Gateway deal, but I liked it. I mean, I'd rather race on smooth and slick and not tear my s--- up any day of the week. Fans might want to see a little bit of character there just to get some passing and banging."
Of course, the beating and banging isn't uncommon in the Midwest, where drivers routinely compete for superiority on racey bullrings. In fact, Thursday's main event looked like a DIRTcar Summer Nationals who's who. Among the top eight finishers, there was 217 combined Hell Tour wins and 11 championships represented, led by Pierce's five titles and Shannon Babb's 101 wins.
"Our Summer Nationals boys, our Illinois boys, basically all of us were here in tonight's feature," said Unzicker. "We have smaller tracks. Illinois is known for its tighter, quarter-mile stuff. Macon, Belle-Clair back in the day, it was kinda this style you know. So we're used to it a little bit, but there are a lot of good cars here. It's doesn't make any difference if it's a big track or a small track. A good driver and a good team is gonna figure it out.
"But Tyler (Carpenter) said it best a couple years ago. It's a great equalizer, and I think that's where you see some of these small teams shine here. It don't take a big motor. It don't take necessarily brand new tires. It don't take an aero package. You can have an old Rayburn (chassis) and still make that sucker go. You don't need a new car to go around here. That's what's nice about it. This place promotes a lot of the smaller guys to be able to shine."
That's the very reason Unzicker both relishes each Gateway Dirt Nationals opportunity while simultaneously lamenting the past.
"It's a big stage for me. We're a small team just like a lot of people around here," he said. "We try hard. It is one of those (big) stages for us 'cause a lot of fans are here, close to home, you know, Illinois. I would say it ranks up there for me, the logistics-wise of it, it ranks up there in the top five every year of something we look forward to going to. I got everybody here that's part of my race team. They're all here. It's pretty cool to have so many people behind you."