2022 Castrol Gateway Dirt Nationals
Who's Racing Thursday At The Castrol Gateway Dirt Nationals?
Who's Racing Thursday At The Castrol Gateway Dirt Nationals?
A look at the roster for Thursday's Castrol Gateway Dirt Nationals preliminary action at The Dome at America's Center.
Dec 1, 2022
by Brandon Paul
A field of more than 120 dirt late model drivers have been split into two nights of preliminary action for the 2022 Castrol Gateway Dirt Nationals. Thursday and Friday's preliminary nights will both feature fields of more than 60 drivers as drivers battle for three transfer spots into Saturday's main event.
Thursday night's field is stacked with a heavy does of Illinois flavor, with some of The Prairie State's best drivers in action.
Highlighting the list of drivers racing on Thursday night is two-time Gateway Dirt Nationals winner Bobby Pierce. "The Smooth Operator" visited victory line at The Dome in 2017 and 2018. Pierce has also qualified for the main event in all five of the previous Gateway Dirt Nationals.
Joining Pierce in Thursday's field will be four-time World of Outlaws Late Model champion and fellow Illinois driver Brandon Sheppard, who is back in his family-owned No. 5 for this weekend's event.
Shannon Babb, a fan favorite at The Dome since the inaugural event in 2016, will also be in action Thursday night while chasing his third preliminary night win.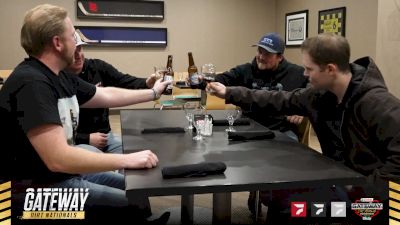 VIDEO: Bobby Pierce, Brandon Sheppard and Shannon Babb sat down for a dinner conversation in St. Louis.
Gordy Gundaker, who has become a staple at the Gateway Dirt Nationals, will look to lock into the main event for the sixth straight occasion on Thursday night.
ARCA Menards Series winner Ryan Unzicker will also be racing Thursday night as he looks to build on his five career top-five finishes in the race.
In addition the impressive list of Illinois drivers, recent Peach State Classic winner Ricky Thornton, Jr. will be behind the wheel of his dirt late model on Thursday before strapping into his Modified on Friday.
Other drivers entered for Thursday night include Chris Simpson, Freddie Carpenter, Jason Feger and Ryan Montgomery.
A full list of drivers who will be racing on Thursday night can be viewed below.
Fans unable to make it out to The Dome at America's Center will be able to watch all three days of racing live on FloRacing. If you're not already a FloRacing subscriber, click here to sign up today.
Castrol Gateway Dirt Nationals Thursday Preliminary Roster
Adam Elliott
Blake Higginbotham
Bob Gardner
Bobby Pierce
Brandon Tibaldi
Brandon Sheppard
Brayton Laster
Brian Wolfmeier
Chad Zobrist
Chase Burda
Chris Simpson
Chris Fetter
Chris Carpenter
Colt Smith
Dakota Smith
Daniel Adam
David McCoy
Dewayne Kiefer
Doug Tye
Erik Thorne
Freddie Carpenter
Gordy Gundaker
Jacob Kolwyck
Jacob Magee
Jake Miller
James Walters
Jason Wagner
Jason Feger
Jayme Zidar
Jeff Neubert
Jeffrey Ledford
Jeffrey Shackelford
Jim Rogers
Joe Denby
Jonathan Woods
Jordan Barbee
Josh Baker
Josh Boller
Justin White
Kevin Smith
Kylan Garner
Kyle Hammer
Kyle Wiser
Matt Koch
Matthew Tribble
Michael King, Jr.
Moran Alexander
Patrick Kelley
Preston Farmer
Quentin White
Rachel Carpenter
Ricky Thornton, Jr.
Rusty Schlenk
Ryan Montgomery
Ryan Wilson
Ryan Unzicker
Scott Bell
Scott Rhoades
Shannon Babb
Steve Fairbanks
Tanner Collins
Tanner English
Tegan Evans
Timothy Welch II
William Stile