2022 Snowbird Outlaw Nationals
2022 Snowbird Outlaw Nationals Pro Mod Entry List
2022 Snowbird Outlaw Nationals Pro Mod Entry List
The 2022 Snowbird Outlaw Nationals are just days away and the Pro Modified field is almost set. Watch live December 2 - 4, 2022 on FloRacing.com
Dec 1, 2022
by Courtney Enders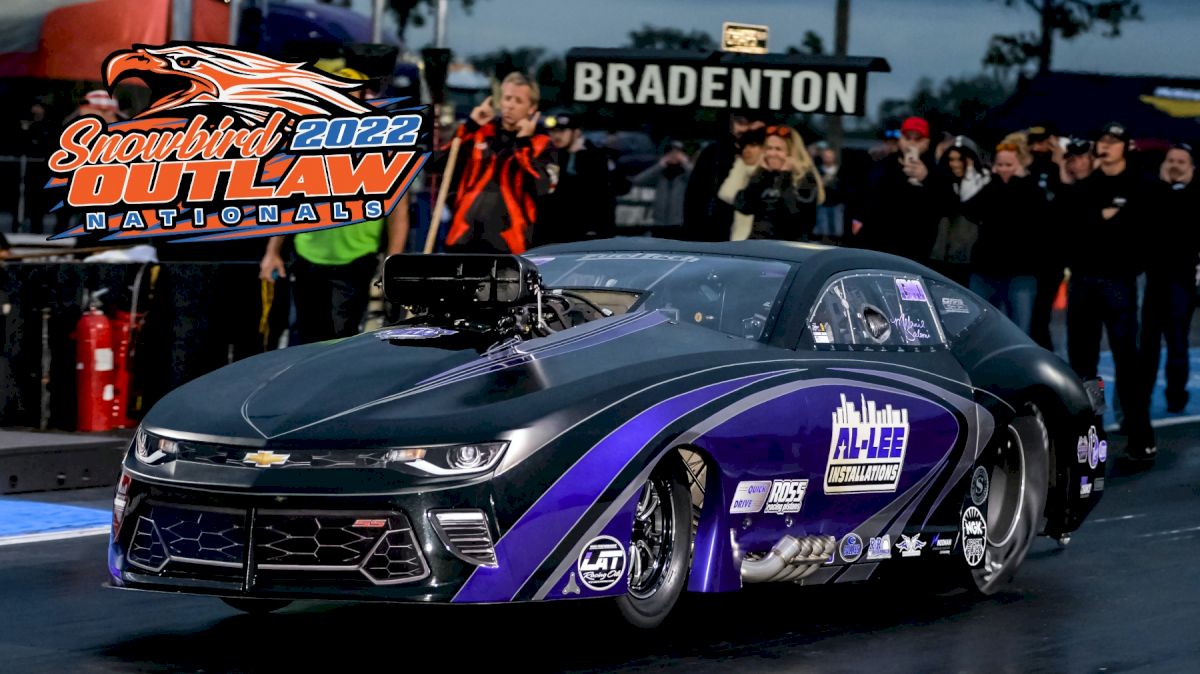 Testing is underway at Bradenton Motorsports Park (BMP)for the 51st Annual Snowbird Outlaw Nationals. BMP owner, Victor Alvarez has confirmed the following list with rigs still arriving.
"The best of the best are rolling into the gates of Bradenton Motorsports Park as we speak and I am so proud of the work my team has put into making this event happen. I look forward to this every year and I know 2022 will not disappoint. If you're a fan of drag racing, you do not want to miss this event!" - Victor Alvarez
Pro Mod Entries As Of 12/1:
1. Jason Harris
2. Blake Housley
3. Bobby Glenn
4. Travis Harvey
5. Peter Farber
6. Manny Buginga
7. Stan Shelton
8. Melanie Salemi
9. Don Lamana
10 .Raymond Matos
11. Wes Distefano
12. Mike Decker
13. Andrew Handras
14. Ronald Balduf
15. Brandon Pesz
16. Justin Jones
17. Jeff Jones
18. Adam Flamholc
19. Todd Moyer
20. Todd Tutterow
21. Derrick Ford
22. Michael Tokarz
23. Cameron Hensley
24. Derek Ward
25. David Monday
26. Tom Blincoe
27. David Mallory
28. Kurt Steding
29. Scott Wildgust
30. Chip King
31. Lyle Barnett
32. Billy Banaka
33. Aaron Wells
34. Scott Tidwell
35. Mark Werdehausen
36. Brandon Snider
37. Kevin Rivenbark
38. Rob Cox
39. JR Gray
40. Robert Abbott
41. Jeff Rudolf
42. Stevie 'Fast' Jackson
43. Randy Weatherford
44. Ken Quartuccio
45. Jim Halsey
The quickest and fastest cars and the biggest stars in outlaw racing's big-tire and small-tire classes will come together at Bradenton Motorsports Park this weekend, Dec. 2-4, for the 51st annual Snowbird Outlaw Nationals presented by Motion Raceworks. With a $51,000-to-win Pro Mod show headlining the event, the race also includes Pro 275, X275, Outlaw 632, and the Jet Jam Night of Fire featuring Jet Trucks and the Larsen Motorsports Jet Dragsters.