Event Hub
Ernie Francis Jr. Wins Fourth Straight Trans-Am Race
The 19-year-old phenom Ernie Francis Jr. became even more phenomenal Saturday at Indianapolis Motor Speedway by winning his fourth consecutive Trans Am race.

This was the first time in series' history that Trans Am visited Indy. Mark Boden scored a class win in TA3 with Andrew Entwistle winning TA4 to add their names to the record books as inaugural victors. In total, 35 cars took the green flag.

The win was Francis' 27th victory across all classes and moves him to fourth on the winners list. For the teenaged driver, this was a special race because it allowed him to set a new record instead of chasing the drivers who went before him.  

"We've been breaking past records in Trans Am; it's nice to be able to set the first record here--winning the first Trans Am race here at Indianapolis Motor Speedway," Francis told GoTransAm.com. "It's just incredible. The guys did a great job on the car all weekend; the car was on rails. JRi Shocks set up the car perfectly. The EMCO gearbox was flawless all race, and our Katech Engine gave us the power we needed. I can't thank our partner, the Buoniconti Fund, enough. They did a great job pushing us to this race and throughout the whole season; we're looking forward to the next race, trying to continue the streak."

Francis led the race from the pole in his Ford Mustang but lost the lead momentarily on the first lap to Vincent Allegretta. He recovered and led all 42 laps of the race.

"In the beginning it was a little difficult," Francis said. "I knew Vinnie had the legs on me down the front straight, so at the start I knew he was going to be strong on the outside row. So once he got by I just put the pressure on that first lap. I knew if I showed the nose enough he would make a little mistake so I could sneak by. Once we were by it was pretty smooth sailing. We just avoided the traffic as best we could safely and held on to the end."

David Pintaric in a Cadillac CTSV was also able to get around Allegretta and finished second. Starting fourth, Pintaric lost a position early before picking off the competition. He climbed to second on lap 33 and earned the COOLSHIRT Systems Cool Move of the Race. This was Pintaric's eighth career podium finish.

Allegretta rounded out the top three to stand on the podium for the second consecutive race and the third time this season.

The Trans Am race was part of the SVRA Brickyard Vintage Racing Invitational.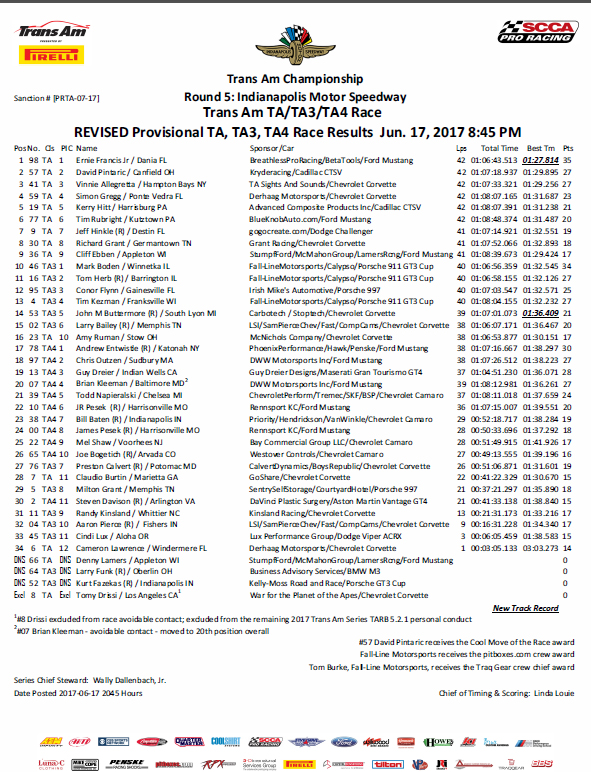 Sportscar Vintage Racing Association Coverage
Live Updates: SVRA Day 1
Ruman Rules Trans Am
Pearson Paces Brickyard Practice
Johnny And Loni Race Together For First Time
Mazda MX-5 Joins The SVRA Weekend
Venerable Series, Venerable Track: Trans-Am Takes On Indy
Lyn St. James Legendary Career
Where To Watch
Indianapolis Motor Speedway
4790 W 16th St,
Indianapolis, IN 46222


How To Watch
ON TV: Now available on Roku and Apple TV 4 -- download the FloSports app today!
STREAMING: Available only on FloRacing. A yearly FloPRO subscription provides access to ALL FloSports sites.
SIGN UP HERE