Event Hub
Lance Kobusch Shreds The Competition With A Smooth Style
By Race Chapman

Lance Kobusch first appeared on the FloRacing radar when he showed up at a local track in Austin, Texas, on an 80cc Monster Energy-sponsored Kawasaki bike. He was throwing whips that defied physics and railing so fast the only rider there who wasn't prey to his speed was a professional on a full-size bike.

That was a couple years ago. Shortly after that cameo, we spotted him on TV at the Monster Energy Cup in the supermini class. These are the fastest young racers in the world, and they ride a full-fledged supercross track in between pro motos. He swept the night with two moto wins for a first overall, clearing every massive triple with fearless confidence. The competition was shredded.

Recently, Kobusch has advanced to the full-sized bikes, which means he is not long for the amateur ranks. FloRacing got him on the phone so we could touch base on where his career and mind is at right now.





FloSports: So what have you been up to over the last year?
Kobusch: I got off superminis at Loretta's and got on the big bike and tried to adapt and really have fun with the transition. It's a lot different going from the two-stroke to four-stroke, and it's a bigger bike with a lot more power. I was pretty big on the supermini, so it felt good to have all the power there and have a lot more room to move around on the bike. I really just tried to have fun with it, you know? So it was really good, and I think I took it really well. 

I went to the Ponca Natl and I swept all my classes, so that was really good. And then Mini O's I got two seconds -- I think those were my best finishes at Mini O's -- and I was first in one [moto] and in the last turn my bike broke, so we had some mechanical problems there. So that one was alright I guess; not too bad, not the greatest. And then from there went to [Freestone] Spring Nationals and won two championships at Spring Nationals, and my worst finish at Freestone was a fourth place. So I thought that was really good; all week long fourth was my worst finish.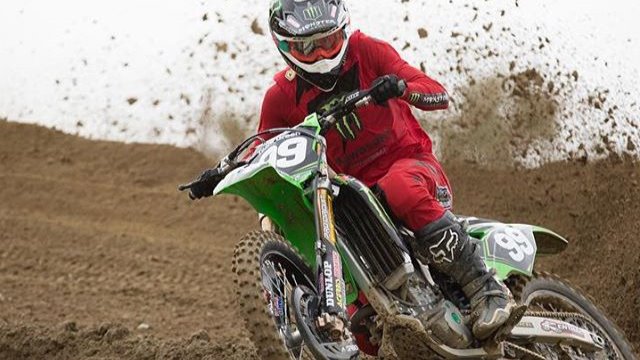 It sounds like you're adapting really well to the 250 but has there been any challenges for you in that transition?
I don't know, I guess the biggest thing is I've been training really hard. Trying to put some muscle on and get bigger and stronger, because the bike's a lot heavier and now we're doing a lot longer motos. So I'd say the training has been a big step. And then... trying to adapt. The big bike is pretty difficult to move to, but I think I handled it pretty well, like I was saying. But yeah, I'd say the biggest change is I've been training pretty hard lately.

The 50th Mammoth Motocross is in a few days. What did you think of Mammoth when you raced it last year?
I thought it was a really fun event! We went up there a couple days early, and I like to ride scooters and stuff, so we went up there, went to the skate park, rode mountain bikes and went up in the hills and -- you know where I'm from it's just a bunch of farm fields. It's about like a countertop; it's so flat where I'm from. So it was really cool. 

And I thought it was a little weird, you feel like you're fine. But with the air being thinner up there, you don't realize until you run a little bit and you're breathing more than you normally do. So that was a little weird, but I thought it was fun and definitely a cool experience. And we saw bears, and I went golfing for my first time up there, so I had a lot of fun with my friends and my dad and stuff. Then the racing was good. The track is pretty hard to pass on, but it makes for close, fun racing. And that's what it's all about!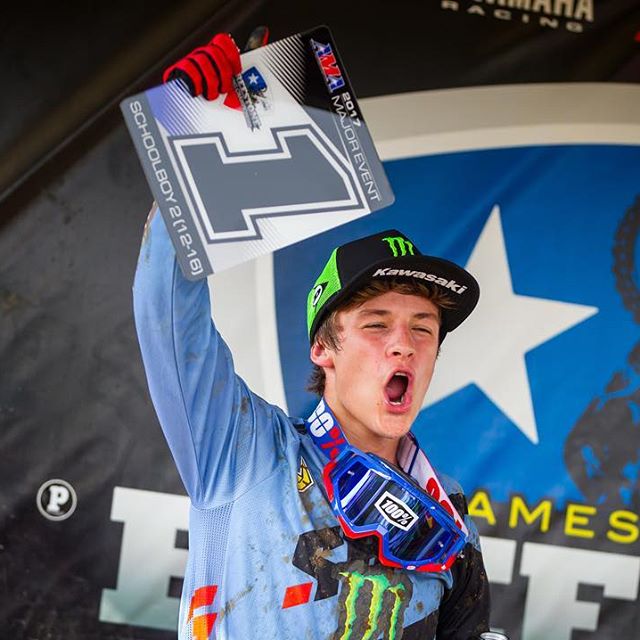 What is your personal favorite event?
I'd say my favorite event is the local races that I race, those are probably my favorite. My family gets to go to them, because a lot of the national races are really far away from where I live. So whenever I get to do local races, all my friends are there and my family, and that's I think when I have the most fun is just doing local races.

Which pro riders do you look up to and try to learn from?
I'd like to say that I look up to like Marvin Musquin, because he's not the most physical guy out there. I mean I'm sure he's super strong, but I think he's really smart when he rides. You see him hopping around and hitting different lines. Because if you can find lines that are smooth and work for you, you can go really fast and then you don't have to be a physical rider and plow through that stuff, you can just float around the track. That's what I try to do. I just try to float instead of hammer through everything. That's just kind of how I like my style to be, so I like to kind of hop through and ride like him. 

But then I'd like to say I also like the flair of Kenny Roczen, and he just seems like a really cool dude. He's got the big whips and the style, and I really like his style. But then I like how Marvin -- he can make a rough track look smooth.

Tell us a bit about the team you're riding for this year.
I ride for Monster Energy Kawasaki Pro Circuit Team Green. I've been on Team Green since I was 8 years old, so I've been on here a long time. And I think it's awesome because not only did I get a chance to ride for one of the greatest amateur teams, but I got to stay on it for as long as I have. And seriously without them, I don't know if I would have been able to do it. They have helped me tremendously with bikes and support and everything they've done. So a huge huge huge thanks to them. They've definitely helped me a lot and it's really cool to have your bike under the tent, and it's a huge confidence booster just to be on the team. Just the mental side of things helps you as well as on the bike. So I owe a lot to them.

I trust them 100 percent, and they've also helped me to learn more about the bike. Some people just ride the bike. I also like to learn about it, so then I can give them the best feedback that I can. If you can give good feedback to them about what the bike is doing, then they know what to fix. So I try to learn a lot myself, so I can tell them what I'm feeling so they can fix the problems if anything is wrong. So we work as a solid unit together, and it's worked out great. I've gotten championships every single year since I've been with them, so it has definitely been very successful.

Are there any other sponsors you'd like to thank?
Pro Circuit, Monster Energy Kawasaki, Team Green -- couldn't have done it without them. Shift, Bell, 100%, Dunlop, Renthal, N-Style, AP Designs, Pod, iLabb, Ethika... I've had a lot of people help me throughout the years, and really if it wasn't for [them] -- they have helped me out tremendously and I seriously couldn't have done it without them. So seriously thank you to anybody who has helped me out throughout the years!

Ride Hard, Play Hard At Mammoth Mountain
Seven Years' Experience In A 10-Year-Old Body
Exclusive One-On-One With Joey Crown Before The Mammoth Mountain MX
Joey Crown Highlights An Early List Of Mammoth Mountain MX Contenders
2016 Mammoth MotoX, 250 B/C Open Results


Weekly Articles from Race Chapman
Pala Raceway Is An Overlooked Gem
The Road To The Loretta Lynn National Championship Starts At Pala Raceway
Where To Watch
Mammoth Motorcross
Mammoth Lake, CA, 93546


How To Watch
ON TV: Now available on Roku and Apple TV 4 -- download the FloSports app today! STREAMING:
Available only on FloRacing. A yearly FloPRO subscription provides access to ALL FloSports sites.
SIGN UP HERE